It has also failed to undertake a capability review into the culture and governance of the entity, despite requests from the regulator and an independent report that was published late last year.
This is a company that downplayed a treasury document that said 52,000 injured workers had been underpaid $80 million. At the hearing on Monday the chief executive of the State Insurance Regulation Authority revealed that icare had adopted a policy that if any injured worker files had missing information icare would assume they had been paid correctly. Of 100 files reviewed, 60 had no information, which were therefore deemed correct by icare and of the 40 that did have information, at least an estimated 19 of them had an underpayment issue.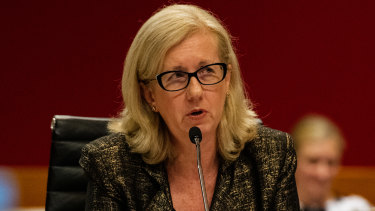 But one of the most damning insights into icare's culture came from Carmel Donnelly, who runs SIRA, when she called out icare CEO John Nagle's description of the public service as having a "culture of complaint".
"I have not seen a culture of complaint, I have seen a culture of service… whistleblowers are not a culture of complaint," she said.
She said CEOs have an important duty to protect whistleblowers, not to denigrate them on the public record.
Loading
Since the joint investigation hundreds of emails have poured in, some from injured workers, some from insiders raising issues about contracts and a toxic culture.
Greens David Shoebridge and shadow finance minister Daniel Mookhey asked a series of probing questions about contracts icare has awarded. These included contracts to insurance brokers, which SIRA is investigating, a $360 million contract with consulting firm Cap Gemini and software provider Guidewire, a trip Nagle had taken to Las Vegas courtesy of Guidewire which didn't appear in the annual report and the details of how a series of contracts were awarded to former colleagues of Nagle's who had set up Bridge International.
Nationals' Trevor Khan also observed that icare's method of informing one of its insurance agents, Suncorp, it had lost a contract was, "That's your throat being cut in a one-on-one."
Nagle was also questioned about his wife who had worked as a contractor at icare. He revealed that he had been sanctioned by the board last year on the basis it believed the original disclosure was "deficient". He said he lost his short term bonus as part of the sanction and threatened to resign.
"I was disappointed with the board's decision to sanction me," he said.
That's your throat being cut in a one-on-one.

Nationals MP Trevor Khan
But he said the chairman Michael Carapiet talked him out of it and said he had the support of the board to "carry on".
Nagle was quizzed about his salary, which is one on the biggest in NSW government, but like many questions asked, he said he had to take it on notice.
NSW Treasurer Dominic Perrottet needs to step up and take decisive action to arrest this disaster.
Adele Ferguson is a Gold Walkley Award winning investigative journalist. She reports and comments on companies, markets and the economy.