A network of feeder bus services have been in place for at least week while the safety review is completed.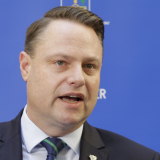 "Kangaroo Point has never had a CityCat service, unlike many other parts of the Brisbane River," Cr Schrinner said.
"Often the cross-river ferries were the only way Kangaroo Point residents could get across the river and connect into the wider network.
"Hopefully by the end of this week we will have those CityCat services stopping at Holman Street."
Cr Schrinner said while Holman Street was not usually used as a CityCat stop, the terminal had been designed to cater for the larger vessels.
The extra stop would mean some possible delays in the CityCat service, he said.
The council's Labor opposition questioned if the administration planned to retire the older timber fleet permanently.
This was rejected by the lord mayor.
In council chambers on Tuesday, Cr Schrinner said his administration was taking independent and governmental maritime advice.
"Any decision that we will make – and any decision we have made on these matters – will be about the safety of Brisbane residents," he said.
"If [the vessels] are determined to be safe, they will all go back on the Brisbane River.
"We love our CityCat and CityFerry services. We love the CityHopper. We introduced the CityHopper service."
Cr Schrinner said safety of the timber ferries was the guiding principle.
"All of the cross-river and CityHoppers services will be back again, and our position remains that we want to see this as soon as possible, but we will make no compromise on safety," he said.
"In the meantime, we continue the important process of reviewing these vessels and getting these services back up and running as soon as possible."
When the cross-river ferries return, the first will be the Bulimba-to-Teneriffe service.
The small timber ferries, which date back to 1984, were Brisbane's main river ferry network before Labor lord mayor Jim Soorley introduced CityCats in 1996.
There are now 21 standard and one double-decker CityCats in service.
Meanwhile Kangaroo Point councillor Jonathan Sri last night said adding the CityCats to the Kangaroo Point ferry stop should be a permanent change.
"It's important that this is a permanent, ongoing change, and that the mayor commits clearly to keeping the CityCat stop at Kangaroo Point even after the other cross-river ferries are restored," Cr Sri said.
"A CityCat stop at Kangaroo Point won't just benefit local residents, but also the many workers and visitors who travel into Kangaroo Point," he said.
"This is a massive outcome particularly for local community institutions like the Brisbane Jazz Club, which is located right next to the Holman St stop."
Tony Moore is a senior reporter at the Brisbane Times