Then there are those who have stepped up by volunteering. Media coverage of the hard lockdown of public housing towers shone a spotlight on many individuals and organisations that quickly put concern for residents into action – such as the Sikhs who provided meals for residents, just as they did during last summer's bushfires. Service to others, just like this, is going on all over Victoria. Isn't this kind of "distinguished" and "conspicuous" service exactly what an OAM – or better – is supposed to be all about?
As COVID-19 is changing our understanding of who is working in an essential service, so too should our public recognition of those whose jobs require them to give so much more, in the face of clear danger.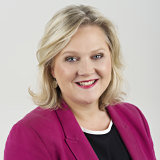 Some professions, such as the armed services and police, regularly nominate their own for Australian honours. No doubt contributions to the COVID-19 crisis will be part of their future applications – and so they should – but let's make sure that those who have given so much from other professions, or from the ranks of volunteers, are also remembered and acknowledged.
The armed services also have a long history of campaign medals for their members, and while not wanting to offend those who have risked their lives in armed combat, we should recognise those who today are risking their lives with a silent enemy.
So here is an idea for the Council for the Order of Australia – why not a COVID-19 service medal for those at the front line? This should include hospital medical staff, especially our heroic nurses, and cleaners, administrative and other support staff. It should also be given to those whose contribution is based largely in the community, such as ambos and a range of other medical and support workers.
This would be fair public recognition of service, and also the kind of egalitarian approach that was envisaged when Australia's own honours system was introduced in 1975. COVID-19 has given us a terrible opportunity to finally make it happen.
Margaret Fitzherbert is a former Liberal member of State Parliament.