He claimed the material was confiscated from a ship months ago and stored in a warehouse at the port.
Footage from the city shows people being rushed to hospitals, which local TV said had been quickly overwhelmed with casualties.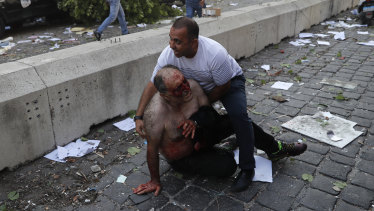 A reporter on the ground for the AFP news agency said some hospitals were turning injured people away because they were too full or damaged to take them.
Early reports suggested at least 10 people had been killed, but that figure was expected to rise as reports of missing people and serious casualties flooded in.
The force of the blast was so strong that balconies were ripped off apartment towers and cars on roads and highways flipped on their roofs.
Beirut Governor Marwan Abboud said the capital was a disaster area, with the damage "enormous".
People on the island nation of Cyprus – some 250 kilometres away – reported feeling the explosion, which pushed a pink-coloured mushroom cloud soaring above the Lebanese capital.
"I saw a fireball and smoke billowing over Beirut. People were screaming and running, bleeding. Balconies were blown off buildings. Glass in high-rise buildings shattered and fell to the street," one witness told Reuters.
Another witness described the scene as "total chaos".
Local television footage showed severe damage to several houses and shops near the Port of Beirut, including the home of former prime minister Saad Hariri.
Debris filled the ground at the port and other footage showed damaged container trucks and vehicles.
Lebanon's Health Minister Hamad Hasan said the explosion had caused a "very high number of injuries" and extensive damage, Lebanese LBC television channel quoted the minister as saying. Al Mayadeen television said hundreds were wounded.
The Lebanese Red Cross said they were at the scene of the explosion.
Bevan Shields is the Europe correspondent for The Sydney Morning Herald and The Age.