There are also rising fears about the impact of the lockdown on consumer confidence and the national economy.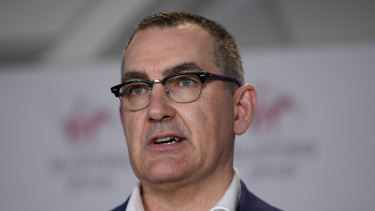 Chief executive of $2 billion health insurer nib Mark Fitzgibbon said it was wise to "err on the side of caution" when making decisions about restrictions designed to stop the spread of the virus. But he warned Australia must take steps to ensure the health system would not be overwhelmed if cases skyrocket.
"We need to learn to live with the threat, just as we do other diseases which haven't yet got a cure. And learning to live with it means making sure our hospitals can cope," he said.
Mr Fitzgibbon said he was increasingly concerned about the situation in the US, the world's largest economy.
"While I worry about the impact on our domestic economy like everyone else, I'm as much worried about what is happening in the USA. America is a major source of investment and trade, and I think potentially difficulties in America have as much as an impact [as domestic decisions]."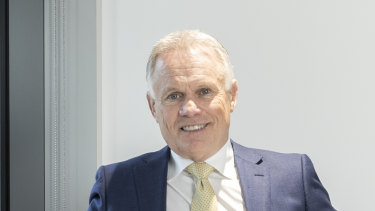 "It's difficult to be critical of Daniel Andrews or Scott Morrison," he said.
Healthscope chief medical officer Dr Victoria Atkinson said the second phase of shutdowns had made Australians more anxious about seeking care in hospital settings and she predicted fewer patients would present for treatment than during the first period of restrictions.
"I think we have lost a balance and we see [the] health system as consumed by COVID," she said. "COVID is absolutely the centre, but we have to start paying attention to this escalation in other spaces."
Loading
Wesfarmers non-executive chairman Michael Chaney said balancing health and economic concerns was difficult because it was not known what path the virus would take. "We can model possible outcomes but we don't know what course this virus is going to take as it spreads, and re-spreads around the world," he said.
"I suspect that in a few years we'll be able to look back and conclude what was the most effective way to tackle the challenge, but it's not clear at this point."
AMP chairman and former Commonwealth Bank CEO David Murray said Australia would know whether its health measures were appropriate only in hindsight. The country would have to think differently to solve its economic problems, he said.
"The thing we have to do differently is to promote investment and for government sponsorship of serious national projects to lift employment and they have to be in things that add a lot of value to our economy later."
On Wednesday, CSL chairman Brian McNamee delivered a strong warning about the impacts of the Melbourne lockdown in The Australian Financial Review, observing it would have devastating economic and social impacts that were not well enough understood.
Business Briefing
Start the day with major stories, exclusive coverage and expert opinion from our leading business journalists delivered to your inbox. Sign up for the Herald's here and The Age's here.
Emma is the small business reporter for The Age and Sydney Morning Herald based in Melbourne.
Elizabeth Knight comments on companies, markets and the economy.