Loading
The Herald reported in March 2019 that a 17-metre wall raising to 147.5 metres was being considered, citing leaked documents. At that height, about 6000 hectares of World Heritage Area would be at risk of inundation, compared with about 5000 hectares with a 14-metre raising, according to the Colong Foundation.
Harry Burkitt, a Colong campaign manager, said the claim that only part of the structure would be at 17 metres was a form of "death by a thousand cuts" as the government introduced incremental changes towards a final goal of the expanded project.
"Given this substantial expansion to the project's size, the costs for the dam proposal will now be
ballooning well beyond $1.5 billion," Mr Burkitt said.
He said the full environmental, economic and cultural impacts would need to be redone to account for "the dramatic expansion" of the project.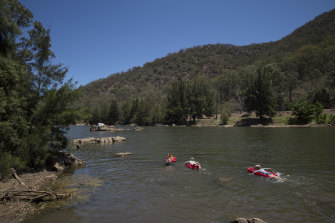 Loading
WaterNSW was approached for comment. The Herald understands cabinet has not approved the increased height.
Stuart Ayres, Minister for Western Sydney who is overseeing the plan, said there was "no secret plan to change the flood mitigation capacity of the current proposal to raise Warragamba Dam".
"Sections of the proposed dam wall at 17 metres relate to abutments and the road deck," he said. "The abutments and road deck section above the spillway do not play a role in storing water".
"The wall is for flood mitigation only and not storage. This project ensures temporary inundation occurs behind the dam wall rather than people's living rooms, streets and businesses," Mr Ayres said.
Independent NSW MP Justin Field said the amendment request contradicts many rejections by Minister Ayres and Infrastructure NSW were planning to raise the wall by more than 14 metres.
"The government has continually used the 2016 $700 million dollar price tag when talking about this project but it is clear that a 17-metre plan will blow this cost out significantly," Mr Field said.
"The community is right to be concerned about what else the government is hiding about this project, its costs and potential impacts."
Mr Field is also the chair of the Legislative Council Select Committee conducting an inquiry into the wall-raising proposal.
Get our Morning & Evening Edition newsletters
Peter Hannam writes on environment issues for The Sydney Morning Herald and The Age.
Most Viewed in Environment
Loading