Loading
The Victorian stage three and four lockdowns are now expected to strip 1.75 percentage points worth of growth out of the quarter, taking it negative.
The last time Australia experienced three consecutive quarters of negative growth was during the 1982 recession when unemployment peaked at 10.5 per cent.
The Victorian outbreak will dominate Friday's national cabinet meeting of the nation's premiers and Prime Minister Scott Morrison. The impact of the outbreak on Victoria's aged care sector plus possible reforms around skills and deregulation to help support the post-virus economy is also up for discussion.
Mr Morrison on Thursday said the effective jobless rate, taking into account people working zero hours or who have left the employment market completely, was now likely to rise back above 13 per cent.
"That is very troubling but it is not unexpected," he said.
"In the circumstances, these measures will have a very significant cost, and it will impact the recovery path."
The blow to economic activity is expected to see the jobless rate, which Treasury had forecast to peak at 9.25 per cent by December, to now approach 10 per cent. That equates to between 240,000 and 400,000 extra people out of work.
There are 992,000 Australians officially out of work at present.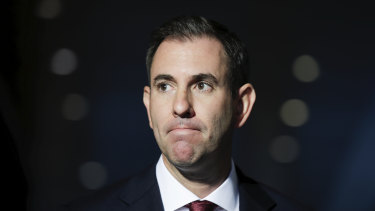 Negative growth in the September quarter, and higher unemployment by Christmas, will put more pressure on the budget bottom line that was already forecast to show a record $184.5 billion deficit for 2020-21. Government gross debt last week reached a record $734.4 billion.
Shadow treasurer Jim Chalmers said the government should re-examine its planned reduction in the JobKeeper wage subsidy program.
Loading
"Scott Morrison is content to outline a steadily deteriorating economic outlook without telling Australians what he'd actually do about it," he said.
"We can't afford to see more Australians in Victoria and elsewhere left out and left behind in this first recession in 30 years because the government's not prepared to respond with a proper plan."
The Reserve Bank on Friday will release its latest economic forecasts, with the shutdown across Victoria forcing it to lift its expectation for unemployment to 10 per cent by year's end.
The bank will forecast unemployment to still be around 7 per cent by mid-2022 when the economy is likely to have only just got back to its pre-virus level.
Consumer spending is already taking a hit because of the situation in Victoria.
Data compiled by the NAB from its customer base revealed spending to the week ended August 1 was just 1.2 per cent up on the same time last year. A week earlier it had been 10.2 per cent better.
Spending across Victoria was down 5.3 per cent. In areas affected by lockdowns it was 8.6 per cent lower.
A similar story was evident in figures collated by Westpac from its customers. Weekly spending to August 1 was at its lowest since mid-June with falls occurring in all major states including NSW (by 5.8 per cent) and Queensland (5.9 per cent).
Spending on essentials is effectively back to where it was in May while discretionary spending has fallen by 7.1 per cent since the start of July.
Shane is a senior economics correspondent for The Age and The Sydney Morning Herald.