"He had the bus ride and he was sort of like, 'let's not risk it'. We did it with [Dean] Kent the week before and it was one of those ones we thought we better not do something that exposes him or puts him at risk.
"It will be a long season with players having to play shortened games and four-day, five-day [breaks], but we want to keep our list healthy and if someone is on the riskier side we will probably err with taking them out."
The Suns shot out to a 10=point lead early in the final term, but the Saints clawed their way back thanks to the ever-astounding Dan Butler, Josh Battle's mark and goal and strong work from Jack Steele.
Hunter Clark was also superb late in the game with his composure.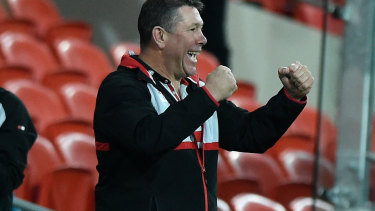 "Clark's ability to just have some awareness to, you know, baulk [was important]," Ratten said.
"A lot of the night I thought we over-handled the ball for the slippery conditions. We fuelled a lot of Gold Coast's pressure when we had the opportunity to take ground and really turn it around.
"But we tried to get one, two, three handballs extra in the chain and that helped them.
"I think if we can correct that with a little bit more composure [that would be good] but Clark at the end, he was very good."
Ratten lauded the temperament of his side to get the win, with the Suns dominating the clinches for most of the match.
"The maturity of our group, we had a slip but found a way," he said. "It wasn't perfect tonight. Aspects of our game were behind the sort of standard we were after and I thought the boys just stuck to it and it was a bit of a grind and we, yeah, we sort of got there in the end but there was aspects of our game which were below par.
"I think the last sort of three, four weeks we have really finished games off strongly and running on top of the ground which is a good sign. We had [Nick] Hind and these blokes really [and] Butler, their speed really shined in that last quarter which it did against Sydney as well.
"It is not just about how far you run, it is maybe at the intensity as well which is pleasing."
Anthony is a sports reporter at The Age.