Thanks again for joining us on the blog tonight.
Just to recap, the Warriors crashed Des Hasler's 400th celebration with a 26-22 win at Lottoland in the first match before South Sydney cruised past a disappointing Brisbane 28-10 at ANZ Stadium with Wayne Bennett not even stepping foot outside his front door.
I'm heading to bed, but doubt I'll hit the hay before the old coach.
Good night.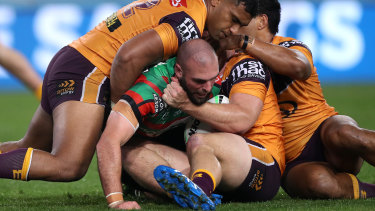 The Rabbitohs are comfortable 28-10 winners in a match more famous for Wayne Bennett being at home in his lounge room and three Broncos staffers, including Allan Langer, being kept in Brisbane after attending a birthday bash for the club legend at the Caxton Hotel last week.
South Sydney stay in the top eight, Brisbane stay in wooden spoon contention.
I don't think we can take a whole lot out of this game from both teams, but as they say the Rabbitohs march on. And Brisbane keep conceding soft tries.
Adam Reynolds has a bit of kicking practice in the dying moments of this one with the No.7 missing an easy penalty goal. Did he miss that on purpose? A kicker of his quality just doesn't miss shots like that, but his team get the ball back from 20-metre dropout. Just 50 seconds left in the game.
I'm still not fully convinced by the Rabbitohs, who are cruising to victory here at ANZ Stadium.
I think they'll play finals football, but not sure they can do too much damage once they get there unless they can find a couple of lengths in horse racing parlance. Tipping the coach has seen enough and might have switched the night light off by now.
Six minutes left.
Just the second one all year for the big Pom…
You can deny him once, but you can't deny him twice.
Tom Burgess gets the try he thought he should have had a few minutes earlier, crashing over the top of Brodie Croft and a soft Tevita Pangai jnr on the inside. That should be the ball game – and doesn't caretaker coach Jason Demetriou love it in the box.
Adam Reynolds doesn't miss conversions like that. It's 28-10 with just 12 minutes left.
Inside the last 15 minutes now and this game is kind of meandering along at the moment. I wouldn't be surprised if the great man has nodded off in the lounge room. Anyone got Wayne Cam live?
South Sydney leading 22-10 and just doing enough at the moment.
Jack Johns onto the field for the Rabbitohs in No.18. Son of Matthew, nephew of Andrew and the bloke who started laughing during Wayne Bennett's half-time talk a couple of weeks ago when he was on debut because he couldn't believe he was listening to a team talk from Wayne Bennett.
Tom Burgess was like the elephant swatting away a little flea then. He was chasing a deft Cody Walker kick and just bumped away tiny Tom Dearden. I don't think you'll see a bigger mismatch in size all year. But unfortunately for the last remaining Burgii at South Sydney, Tom can't quite ground the ball. The bunker says no. It would have been a rare try for the big boy.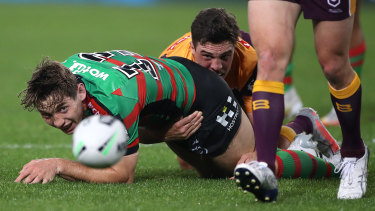 Have you ever wondered if Adam Reynolds really has a string on that football? There can't be a better short kicker in the game, particularly in the wet. Twice he forces dropouts, twice when a retreating David Fifita is captured by Cody Walker. Maybe a little bit of revenge?