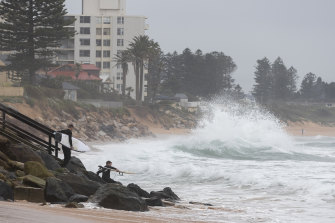 Loading
"Collaroy-Narrabeen is a classic case study in attempts to fix a wicked problem," Mr Regan said. "It's been a nightmare, a cluster of the highest order."
Two big storms in July further eroded the sand dune on which many homes sit, adding to the urgency for permanent protective works. The first section will begin between Stuart and Wetherill streets.
Further pounding of the coast is forecast as soon as Monday and forecasters are watching prospects for another bout of damaging surf to follow by next week.
Loading
"We're this close [to starting work]," Todd Dickinson, the council's director of sustainability, said. "Every time an east-coast low comes around, you go, 'come on, just a few more months'."
But Angus Gordon, a coastal engineer who has advised the government, warns that Narrabeen's progress may not be replicated soon at other coastal erosion hotspots.
Places such as Wamberal, for instance, have more residents to secure agreement and no formula agreed on for paying for a wall.
The Berejiklian government, he says, has also failed to amend "clumsy and convoluted" provisions of the Local Government Act that prevent councils from imposing a long-term fee on property owners who can't afford to pay for their share of a seawall.
Councils can currently impose such a charge for the maintenance after a wall is built but not for its construction.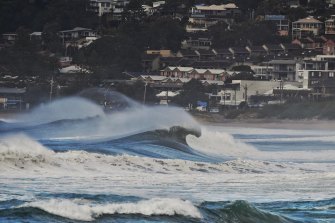 Mr Regan said councils are permitted to impose a lien on a property for unpaid rates that can be clawed back when it is sold. A similar approach could assist asset-rich landholders who can't fund the $20,000 or so per metre of wall needed.
"All those properties will turn over within 50 years," Mr Regan said. "It just needs someone [in government] with the want and desire to be flexible."
Mr Silk also supported the change. "It only takes one of 10 who can't or won't [pay] for the plans to fall like a pack of cards," he said. "There absolutely Buckley's chance of getting Wamberal done under the current model."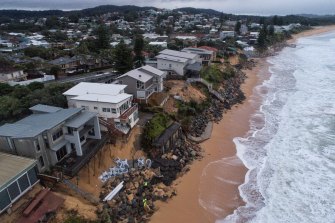 A spokesman for Local Government Minister Shelley Hancock denied the Act was an impediment.
"The Office of Local Government has provided extensive guidance to Northern Beaches Council in relation to funding options for coastal protection works," he said. "The government will continue to work with councils to ensure works can be easily funded and implemented."
Planning Minister Rob Stokes said the government had "done everything it can to assist the affected residents at Collaroy".
Loading
"In 2018, we supported council with $5 million under the Coastal and Estuary Program to help fund 1.3km of coastal protection works at Collaroy-Narrabeen Beach," Mr Stokes said. "The future of the seawall at Collaroy is contingent on the residents agreeing unanimously."
However, beach erosion also reveals other legal issues that will likely be contested more often as climate change drives sea levels higher.
According to laws dating from the 17th century, private land can revert to public ownership if erosion shifts the so-called ambulatory boundaries – where you can walk – so that it crosses into private property lines.
Mr Gordon said case law is yet to clarify how long mean sea level needs to encroach of private land – such as during a big storm – before the land is deemed to have reverted to the Crown.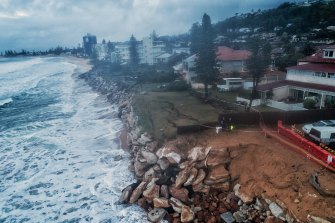 Legal researchers, such as John Corkill, say sea walls may also not be the permanent solution their advocates think.
"Before long, some land titles will become so severely affected that residential occupation, and other land uses, will become unsafe and then impossible," Mr Corkill wrote in 2013.
"It is likely that sea defences can only provide a temporary stay on the inevitable advance of the ambulatory tidal boundary, since sea level rise may exceed predictions for 2100, continue for centuries, and last for millennia."
Get our Morning & Evening Edition newsletters
Peter Hannam writes on environment issues for The Sydney Morning Herald and The Age.
Most Viewed in Environment
Loading