Loading
Teague said his players are now just trying to get rid of the ball as quickly as they can.
"Our players are seeking a fair bit of clarity around it at the moment," Teague said after the 22-point loss on Sunday.
"It's a hard one. Any time you change an interpretation through the season, it's quite hard. As much for the umpires to adjudicate.
"Whether the umpires felt that was right or wrong that call, I don't know because they're going to make mistakes as well.
"So it's hard for us as coaches and players to understand which one was an error and which one wasn't to get a pattern going forward.
"It'll work out. Right now you've got to try and move the ball on pretty quick when you can.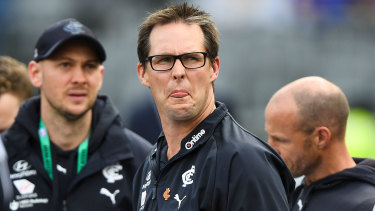 "But if you've got no other option, you've got no other option."
Carlton will try to end a two-game losing streak when they play Fremantle at Optus Stadium on Saturday.
Jack Martin looks likely to be sidelined with a calf injury, while Mitch McGovern should return.
Loading
David Cuningham is less a chance, but will try to prove his fitness.
Teague said he will continue to rotate his player and play his best available team.
"We're going to put our best team out and if our players feel good we'll play them," he said.
"We're not going to sit here and schedule who is going to miss what [match]. We'll manage it week by week.
"Today, I thought Paddy Dow played really well in our game beforehand (against West Coast's reserve players). Caleb Marchbank played his first game this week, Sam Philp, Josh Honey, Cam Polson, we've got a list of guys at the moment that aren't playing in our team that we'd comfortably play in our AFL side."
After playing the Dockers, Carlton will head to Darwin to play the Gold Coast Suns at TIO Stadium.