Cities around the world have made a visible show of solidarity with Lebanon, including Melbourne and Brisbane and even Tel Aviv, the capital of Lebanon's greatest enemy, which projected the Lebanese flag on to its town hall. But in Sydney, home to one of the world's largest Lebanese diaspora, there has been nothing.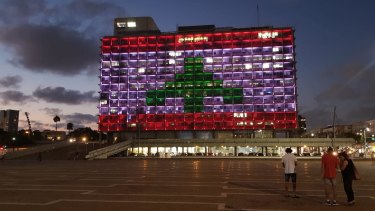 Sydney projected the French flag on to the sails of the Opera House when 130 people were killed in the Paris terrorism attacks of 2015, but didn't do the same for Lebanon when it was attacked a day earlier. We should now right that wrong.
More than 68,000 people in NSW were born in Lebanon and hundreds of thousands more are of Lebanese descent. Such an act of solidarity and care would show such a sizeable part of the Sydney community that their blood, that their identity, matters.
It would be a nod of appreciation to those who have toiled for this country and this state, serving in the military, playing in local and national sporting teams, serving in government, and even, as many a Lebanese tradie can attest, building parts of this city with their very hands.
Loading
Like many within my community, I am a proud Australian, but my connection to Lebanon is more than heritage and nostalgia. Most of us might only know our motherland through memories of tragedy and trauma, but we also know it as a place that offered us belonging when we knew anything but.
This is a chance for Sydney to change that — and show us we are part of this city we've always called home.
Sarah Ayoub is an author and a lecturer in journalism and writing at the University of Notre Dame in Sydney.