The proposed trust would be funded by the members of the Australian Professional Football Clubs Association, the umbrella body representing the current owners of the soon-to-be 12 A-League clubs.
Prior to the A-League's independence vote, licences would traditionally revert to Football Federation Australia control when an owner was no longer able to fund the operations of a club, or when FFA moved to strip an owner of their licence for legal breaches.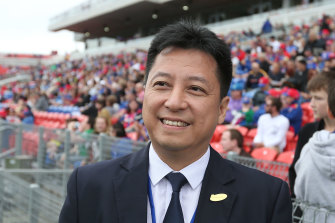 The APFCA fund would potentially serve that same purpose as a licence holder of last resort – or, as sources say has also been mooted, it could purchase licences from wantaway or underperforming owners, nurse those clubs back to full health, and then on-sell the licence at a profit to a new owner.
The idea is reminiscent of what occurred during the early years of Major League Soccer in the United States. MLS was on the brink of extinction two decades ago but the future of several troubled clubs was secured when other owners agreed to take them over and foot the bill to keep them running.
Loading
Philip Anschutz, founder of global entertainment behemoth AEG, owned as many as six MLS franchises at once, while the late Lamar Hunt owned three and Robert Kraft two. Those three businessmen have since been credited with saving the competition, which is now thriving and will expand to 30 teams in 2023.
FIFA, Asian Football Confederation and FFA rules prohibit any one person from controlling or influencing more than one club in a competition for integrity reasons. The establishment of an arms-length fund or trust could provide a workaround, while the FFA constitution states that FFA itself is able to hold more than one A-League licence at a time for an interim period.
The chairmen behind the idea recognise that the growth of their own clubs is intrinsically tied to the health of the smaller clubs and the A-League as a whole, which is why they are open to taking on a greater financial burden if required – although it does raise questions as how any APFCA fund-run clubs could be managed independently.
History has proved there is money to be made in rehabilitating struggling A-League teams. For example, FFA stripped Nathan Tinkler of Newcastle's licence in 2015, then sold it for a reported $5.5 million to Lee a year later.
Despite the pressures of the COVID-19 pandemic, several groups are interested in buying an A-League licence – but most of them are keen to start up teams in new geographies such as Canberra rather than taking over small-market teams like the Mariners and Jets, whose futures remain uncertain.
The Herald revealed last week that there is at least one consortium – headed by Australian businessman Abdul Helou, who owns a third of Spanish club Rayo Vallecano – in discussions with Charlesworth over buying the Mariners, keeping them on the Central Coast and rebuilding their reputation as a development club.
Vince is a sports reporter for The Sydney Morning Herald.