Loading
Recent leaked details reported by the Herald indicate the government plans to raise the wall of Sydney's main reservoir by as much as 17 metres to cope with climate change, not just the 14 metres originally announced.
Touted as a $700 million project, it will likely cost much more, especially if the government has to pay to protect other land as compensation for destruction caused by even the temporary inundation of 5000 or more hectares.
The draft EIS recognises the region was badly burnt in the 2019-20 bushfires, with a "disproportionate impact" on threatened species. Despite that view, it concluded no further research was needed – an approach challenged by the NPWS.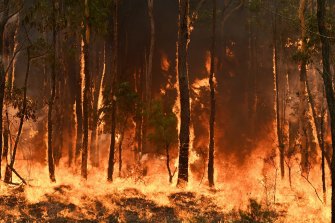 The final EIS "should include clear and detailed information…to support any decision to do no further assessment despite the extensive impacts arising from the 2019-20 season", NPWS said.
Harry Burkitt, campaign manager for the Colong Foundation for Wilderness, said the wall raising was being "pushed by property developers and the insurance industry [which] want to build more houses on the floodplain".
"Meanwhile it's now becoming all too clear that assessments of damage to Aboriginal culture and World Heritage values are hopelessly inadequate," he said.
Stuart Ayres, the Minister for Western Sydney overseeing the project, declined to comment on the leaked report.
Loading
"The increased dam wall is for flood mitigation only and not storage, this will ultimately be a choice about where temporary inundation occurs; behind the dam wall or in people's living rooms, streets and businesses," he said.
Kate Washington, Labor's environment spokeswoman, said the project was "drowning fast".
"The government cannot make it stack up economically or environmentally," she said.
"It's so bad that, in order to avoid the tens of millions [of dollars] in biodiversity offsets, the government is brazenly attempting to avoid its own obligations under its own weak environmental laws."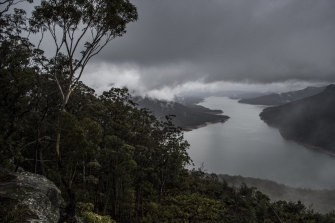 The Parks report said the EIS did not consider "all the elements of Outstanding Universal Value" as will be required given the World Heritage status of the Blue Mountains region.
Nor did it "properly address the 'integrity' component of the World Heritage Area, including with respect to Aboriginal cultural heritage".
Any effects that require compensatory protection elsewhere should be done within the national parks estate, the Parks review said.
It cited the Snowy Hydro 2.0 pumped hydro project as offering a current example of how such offsets should be handled, noting that just one aspect of that venture required a compensation package exceeding $97 million.
Get our Morning & Evening Edition newsletters
Peter Hannam writes on environment issues for The Sydney Morning Herald and The Age.
Most Viewed in Environment
Loading