Loading
Staff had done a good job in declining, he said.
"We're trying to preserve the ability for people who die in the future, for their families to be able to attend funerals.
"If we do the wrong thing, if funerals become a cluster, we'll lose the ability to hold funerals.
"If people couldn't have a funeral service in Victoria, the mental health consequences for those left behind could be frightening. They'd be dire. Unresolved grief is a major cause of suicide."
Funeral homes have introduced special sanitation measures in cases where the deceased had COVID-19.
Mr Pinder's family company, Ern Jensen Funerals, has handled 24 such cases at its Preston and St Albans parlours, with 22 of those in the past month.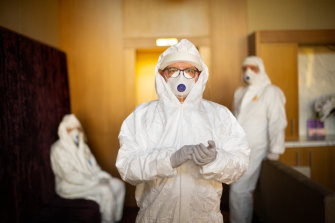 All transfers and the preparation of dead people is now carried out by staff in full personal protective equipment, including face shields, disposable overalls and double gloves.
Clients whose relatives died with COVID-19 are now asked by phone about contact they had with their loved ones before death.
This step was introduced after one client who was met in person described having, the day prior, hugged and kissed their relative. The staff member involved has been tested for COVID-19 and the funeral has been postponed for 14 days.
Dead people who had COVID-19 must have a transparent plastic cover over their coffins during viewing and cannot be touched.
Mr Pinder said funerals for people who died with COVID-19 did not cost more and funeral homes had absorbed the cost of protective equipment.
The state government had refused the industry's request to be labelled an essential service, which would mean protective equipment was provided.
Mr Pinder said up to 70 per cent of his company's funerals were now filmed and either streamed or watched later, compared with up to 20 per cent before the pandemic.
He said it was the "most stressful time" he had seen for funeral workers.
"They're absorbing people's grief and anger and they do that anyway, but it's heightened during the pandemic."
For clients, "not being able to see their loved one leading up to the death, then not being present at the death in many cases, and then being forced to choose who can come to the funeral – all this combines to make the process incredibly stressful".
Carolyn Webb is a reporter for The Age.