In a separate Tweet, Lussick called on the Rugby Football League (RFL) to intervene for the "mental health" of those affected.
"3 months with no pay for the players, staff and families of the @TOwolfpack .. #mentalhealth @TheRFL @SuperLeague" Lussick Tweeted.
The dramas haven't scared off prospective buyers. Ricky Wilby, the man behind a New York franchise with ambitions of joining the English Super League, is part of a consortium conducting due diligence on Toronto.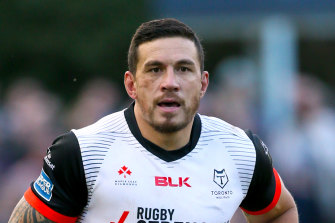 One of the biggest exposures for potential purchasers is Williams' two-year, $10 million deal, which doesn't expire until the end of 2021. The cross-code star was released from his Toronto obligations to join the Roosters, but it's unclear whether he will return to the Wolfpack once the season is over.
Wilby said he pored over the club's books to determine whether he would make an offer, but was hopeful of a positive outcome that would result in Williams returning to the Wolfpack. It may, however, require the star to renegotiate his deal.
"Obviously, Sonny Bill has a great appeal worldwide, so we just need to weigh that up against the size of his contract," Wilby told the Herald from England.
"It's something we would need to sit down with Sonny and discuss, if we took it on. The [club] has significant payments and debt and that's why we'd want to sit down with Sonny and look at the options. There are different conversations to be had over the next two to three weeks."
Williams' multimillion-dollar contract is one of the club's biggest liabilities and Wilby's consortium would likely seek to renegotiate it before proceeding with an offer.
"[The club] is a massive commitment and we need to make sure it's financially viable for all parties," he said.
"We're not just trying to save a rugby league team, we're also trying to turn it into a profitable business worth saving. We're certainly not in the business of coming in and ripping up players' contracts. We're not into putting people out of work and out of jobs."
The RFL had given Wilby's New York franchise the nod to enter the Challenge Cup next year. The plan was to graduate to the League One competition in 2022, the Championship the following year and then the English Super League, potentially as early as 2024.
However, the COVID-19 outbreak, as well as the Toronto opportunity, has changed the landscape. Wilby is open to proceeding with one team, both teams or even going ahead with a relocation or merger. The final decision will depend on the costs and which teams the Super League wishes to proceed with.
Loading
The outcome will have ramifications for Williams, who has accepted $150,000 in a bid to help the Roosters win a third straight premiership.
The cross-code star is yet to arrive at Bondi Junction as he is required to undergo 14 days in isolation. However, Roosters players are already excited by the prospect of playing alongside him.
"I played against him early in my career, he'd run straight through a hole and bump me off when he was at his peak," star fullback James Tedesco said.
"Obviously when he comes in, we'll be excited. He's going to be involved in video and training sessions."
Sport newsletter
Sports news, results and expert commentary delivered straight to your inbox each weekday. Sign up here.
Adrian Proszenko is the Chief Rugby League Reporter for the Sydney Morning Herald.