Share registry company Computershare is forecasting operating profit growth this year and has maintained its final dividend at 23 cents a share despite a 44 per cent drop in net profit for the 2020 financial year.
The ASX-listed company's full-year net profit – released after the close of markets last night – came in at $232.7 million, compared to the $415.7 million profit recorded the year prior. Revenue for the period slumped 7.6 per cent to $2.3 billion.
Computershare said earnings before interest and tax (EBIT), excluding margin income, will be up around 10 per cent for the year ending June 30, 2021.
Computershare chief executive Stuart Irving said the company generated $506 million of free cash flow for the year and net debt was effectively unchanged.
Shares in the company were worth $13.67 before trade on Wednesday and have slipped about 19 per cent in 2020, against an 18 per cent rise for the ASX 200 info tech sector.
Sydney-based investment powerhouse Magellan has reported strong full-year results despite the coronavirus crisis, including 26 per cent growth in funds under management through the year to $95.5 billion.
Net profit after tax increased by 20 per cent to $438.3 million and Magellan declared it would pay shareholders a final dividend of 122 cents per share, up 10 per cent from the same time last year.
Magellan chief executive Brett Cairns said the company had proved resilient through difficult market conditions.
"Magellan's strong investment performance during this time has highlighted the importance of our investment processes and the focus on protecting investors' capital," Mr Cairns said.
Magellan told investors it reaped $591.6 million in management fees, up 20 per cent from last year, and did not have to reduce hours or pay for staff as a result of COVID-19.
Each of Magellan's funds beat the index performance, with the global fund returning 9 per cent, the infrastructure fund returning negative 8.9 per cent and the Australian share fund returning 1.6 per cent.
The strong results come as Magellan launches an investment strategy called the Core Series comprising of various actively constructed portfolios focusing on ethical, international and infrastructure asset strategies.
Mr Cairns said the company had seen "considerable interest" from retail investors and advisers for its sustainable investment strategy to be more widely available.
Rating changes, via Bloomberg
BC Minerals (BCI AU): Rated New Buy at Bell Potter
Cleanaway (CWY AU): Cut to Neutral at Goldman; PT $A2.33
Mako Gold (MKG AU): Rated New Speculative Buy at Blue Ocean
Origin Energy (ORG AU): Cut to Hold at Morningstar
Qantas (QAN AU): Cut to Hold at Morningstar
Sydney Airport (SYD AU): Raised to Neutral at JPMorgan; PT $A5; Cut to Hold at Morningstar
Transurban has swung to a $111 million full-year net loss after the COVID-19 pandemic took traffic from its network of toll roads.
The ASX-listed giant, which made a $171 million profit last year, said on Wednesday that average daily traffic on its roads in Sydney, Melbourne, Brisbane and North America fell 8.6 per cent in the 12 months to June 30.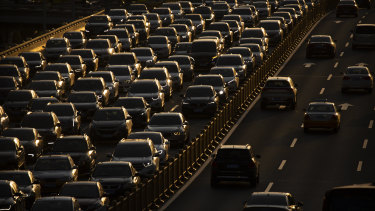 Traffic across the group was down 25 per cent in July compared to the same month last year, with Melbourne's CityLink down 48 per cent due to the stage four restrictions in place.
"Transurban, like most businesses, has seen significant impact to our revenue as a result of COVID-19 and the associated government actions," its chief executive Scott Charlton said in a statement to investors.
IG MARKETS SPONSORED POST
ASX futures up 8 points to 6102 at 6.59am AEST
AUD at 71.37 US cents at 6.01am AEST
On Wall St: Dow -0.4% S&P 500 -0.8% Nasdaq -1.7%
Spot gold -5.5% to $US1916.67 an ounce
Brent crude -1% to $US44.52 a barrel
US oil -0.9% to $US41.55 a barrel
Iron ore +1.6% to $US121.09 a tonne
10-year yield: US 0.65% Australia 0.86% Germany -0.48%
The Commonwealth Bank has posted a 11 per cent drop in full-year profit and will pay a final dividend of 98c a share, as the banking giant's bottom line was hit by charges for bad debts as a result of the coronavirus crisis.
In one of the most keenly-anticipated results of this earnings season, CBA on Wednesday reported cash profits from continuing operations of $7.3 billion for the year, mainly because of previously announced provisions for soured loans.
CBA's final dividend was 31 per cent lower than last year, but still higher than many expected, and at the maximum level allowed under recent guidance from the banking regulator.
The profit result is below market analysts' expectations of cash profits of $7.56 billon, but higher than the expected dividend of 71c a share, according to consensus estimates from FactSet. However, there was more uncertainty than usual about the lender's results, making consensus numbers difficult to interpret.
CBA shares were worth $74.70 before trade on Wednesday, and have slipped 6.5 per cent in 2020 against an 8.2 per cent decline for the ASX 200.
IG MARKETS SPONSORED POST
The ASX is set for a positive start to the day after a wild night on global markets ended with Wall Street taking a tumble late in the session. Shortly before 7am AEST, futures are pointing to a gain of 9 points, or 0.2 per cent, at the open.
In what might be the most significant company reporting this half, Commonwealth Bank missed consensus estimates for full year cash profit, revealing a contraction in its bottom line to $7.3 billion, versus expectations of $7.39 billion. The bank also slashed its dividend, as was widely expected, promising a payout of $0.98 to investors for the half, down from $2.31 this time last year.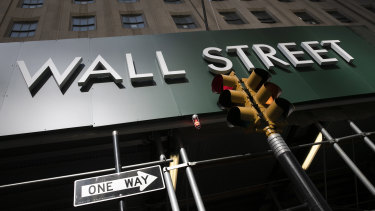 It was a rollercoaster day in global financial markets. US stock took a spill into the close, seemingly off the back of news of a stalemate in negotiations between Congressional Democrats and Republicans on the latest round of fiscal stimulus.
European stocks surged as financial, consumer discretionary and energy sectors climbed. In the US, the tech sector was a big laggard, with the NASDAQ shedding 1.69 per cent, to pace losses in a US stock market that's outperformed recently courtesy of preference for growth stocks.
It promises to be a reasonably high impact day for global markets in the day ahead. Locally, the RBNZ will garner attention, with the central bank expected to keep monetary policy setting on hold today. US-China trade tensions will remain in focus, as will high-stakes fiscal stimulus talks in Washington. And in overnight trade, an eye will be kept on US CPI data, as market participants gauge the potential for the return of the "reflation trade", that shifted market fundamentals overnight.
Good morning, and welcome to Wednesday's Markets Live Blog.
Your editors today are Alex Druce and Lucy Battersby.
A bit of news about already, with Commonwealth Bank posting an 11 per cent drop in full-year profit to $7.3 billion, and a final dividend of 98c a share.
This blog is not intended as financial advice