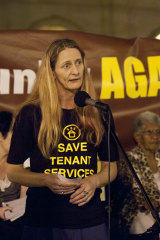 Tenants Queensland chief executive Penny Carr said the data made clear it was "not the time" to lift the eviction moratorium slated to end in September.
"What it really shows is that it is not a renters' market," she said.
The data, pulled from submissions from real estate agents statewide, ranks rental markets as tight, healthy or weak based on their vacancy rates of zero to 2.5 per cent, up to 3.5 per cent, and above, respectively.
It found the five-kilometre Brisbane CBD circle was the only "weak" region for the latest quarter at 3.9 per cent vacancy, though this was largely a result of significantly high vacancy in the city and inner suburbs.
Across the outer regions of the capital such as Ipswich, Logan and Moreton Bay, the mean vacancy rate sat at 1.7 per cent.
Real Estate Institute of Queensland chief executive Antonia Mercorella said this factor, driven by the "high number of renters facing financial stress" and reduction in international students and migrants, could drive down rents in the city.
"However, much of it will also depend on the commercial and retail sector's ability to rebound," she said. "It's very much a 'watch this space' situation unlike anything we've ever experienced."
Almost one in five of the state's regions had rental vacancies of less than 1 per cent, the data showed.
Areas such as Maryborough, Mount Isa, Gympie and Rockhampton were some of the tightest markets.
Loading
Ms Mercorella also pointed to an increase in low-income renters in the market as evidence there had been a "decline" in government investment in social housing.
Housing Minister Mick de Brenni said the government would be guided by national cabinet about the temporary protections, set to expire on September 29.
"I have asked the housing security subcommittee I established to assess whether any tenancy protections need extending as the global pandemic continues," Mr de Brenni said.
He said reports from across the industry, including the REIQ, showed temporary renting arrangements had "created stability".
"Increasing supply of housing and supporting construction is a feature of Queensland's plan for economic recovery, he said.
Data released by his office last month showed the state's social housing waiting list had swelled 20 per in less than a year.
Advocacy and social service groups seized on the figures, saying they would only rise further as state and federal support for those impacted by the pandemic was wound back.
At the time, Mr de Brenni said the government was "exceeding" its targets and building an average of 600 homes each year, including an extra 215 this year under a support package announced in June.
Matt Dennien is a reporter with Brisbane Times.