An Environmental Impact Statement (EIS) found Willow Grove, and St George's Terrace were rare heritage items in the Parramatta CBD. Willow Grove was built in the 1870s as a private villa, and later became a maternity hospital called Estella.
A report prepared on behalf of Infrastructure NSW recommended the development of the new Powerhouse on the banks of the Parramatta River proceed anyway as the public benefits of western Sydney's first major, world-class cultural institution outweighed heritage concerns and the loss of the local community's sense of place.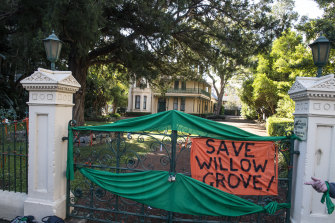 The EIS predated the Berejiklian Government's surprise decision to keep the Ultimo Powerhouse open, operating the museum across two sites when the Parramatta Powerhouse opened in late 2024.
Suzette Meade, a spokesperson for the North Parramatta Action Group, said the NSWNMA's endorsement of the campaign to preserve the buildings had, "increased the drive and passion for community and heritage supporters from all over Sydney to win the battle to save Willow Grove and St Georges Terrace."
"Willow Grove is an exceptionally important part of the history of women's health care at the most important time in their lives, as they give birth. Initially built by local businesswoman Annie Gallagher, wife of prominent Parramatta Alderman Thomas Gallagher, it served as a maternity hospital from 1919 to the late 1950s, which makes it so special to generations," Ms Meade said.
NSWNMA Assistant General Secretary, Judith Kiejda, said the planned demolition of the two sites was devastating for the Parramatta community and the colonial history of maternity services.
Loading
"Parramatta light-rail project has been enough of a circus for the nearby Female Factory Precinct and efforts to obtain its world heritage listing. We won't stand by and watch Willow Grove and St George's Terrace go under a bulldozer without a fight," Ms Kiejda said.
While the green bans and blockades can't stop the project proceeding, they can add to project delays and costs if tier one construction companies, those capable of fulfilling a major infrastructure contract, are deterred from bidding or need to factor in the potential for protests.