Australia's largest power generator, AGL, has revealed a sharp decline in underlying earnings as the effects of COVID-19 pummel wholesale energy prices and reduce gas demand.
AGL on Thursday posted underlying net profit of $816 million for the financial year, down 22 per cent on 2019, citing reasons a prolonged outage a coal-fired power plants and the recent price volatility engulfing the energy market caused by the pandemic. The company warned investors to expect an even tougher year ahead as the economic shock of the virus continued.
"Financial year 2021 will be a year of considerable uncertainty as we navigate the COVID-19 pandemic and its economic impact," AGL chief executive Brett Redman said.
Across Australia, power prices have been falling following an influx of cheap renewable energy into the grid and a slump in power demand caused by offices, small businesses and factories temporarily closing down. However, increases in energy usage with more people staying indoors have driven shock rises in residential power bills, adding to the financial stress for households affected by the economic downturn and raising the risk of bad and doubtful debts by customers unable to pay.
The firm has cut its final dividend from 64 cents per share to 51 cents per share, 80 per cent franked. AGL also said on Thursday it would carry out a special dividend program over the coming two years with an effective payout ratio of 100 per cent of underlying after-tax profit.
Australian oil and gas giant Woodside has plunged to a half-year loss of more than $5 billion as coronavirus lockdowns pummel the world's fuel demand and force severe writedowns across the company's operations.
Woodside's first-half loss of $US4.067 billion ($5.7 billion) comes after the company slashed up to $6 billion from the value of its assets last month due to the severity of the pandemic's impact demand for crude oil and liquefied natural gas (LNG), one of Australia's most lucrative exports.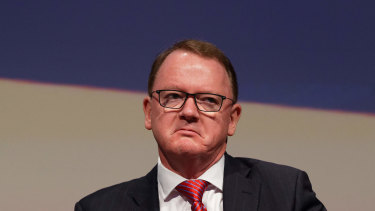 "I would rate the external conditions created this year by the COVID-19 pandemic and oversupply in global oil and gas markets as the most difficult I've seen in nearly four decades in the industry," Woodside chief executive Peter Coleman said.
Stripping out one-off charges, the company's underlying net profit for the six months to June 30 fell 28 per cent to $US303 million, beating analysts' expectations.
Mr Coleman said the company and its people had demonstrated resilience in the face of the market crisis, posting record-breaking half-year production. Woodside declared an interim dividend for the half of US26¢ a share.
Shares in the company closed at $20.59 on Wednesday and have shed 40 per cent in 2020, against an 8.3 per cent decline for the ASX 200.
Rating changes, via Bloomberg:
Commonwealth Bank (CBA AU): Cut to Hold at Bell Potter; PT $78
JB Hi-Fi (JBH AU): Raised to Neutral at Credit Suisse; PT $42.71
Seek (SEK AU): Cut to Neutral at JPMorgan; PT $20.15
Penfolds maker Treasury Wine Estates has seen its profits slump by a quarter as the coronavirus pandemic prompted restaurant and hotel closures around the world and the company faced a wine glut in the US, one of its key markets.
Net income fell 25 per cent to $315.8 million in the year to June 30, the Melbourne-based company said in a statement to the ASX on Thursday morning. Sales revenue for Australia's biggest wine company fell 6 per cent to $2.65 billion, with COVID-19 affecting its trading performance across the world.
Treasury Wine, which recently appointed long-term executive Tim Ford as its new chief executive, reported total EBITS (earnings before interest, tax, the agricultural accounting standard SGARA and material items) of $533.5 million, which was down 22 per cent on the previous year and in-line with a downgraded forecast of between $530 million and $540 million the company gave earlier in the year.
Despite the profit slump, Treasury declared a final dividend of 8 cents per share, fully franked, taking its payout for the year to 28 cents per share, or 64 per cent of net profit.
The company declined to make any earnings forecasts for the new financial year, citing the uncertainties caused by COVID-19.
Shares in Treasury closed up 2.7 per cent on Wednesday at $11.44.
Appliance manufacturer and retailer Breville has said its range of products is well-suited to the 'new normal' brought on by COVID-19, with the company reporting a strong full-year with sales growing 25 per cent to nearly $1 billion.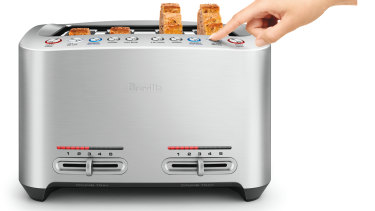 However, the company's statutory net profit after tax fell 1.8 per cent to $66.2 million thanks to a number of abnormal expenses and cost savings associated with the virus.
These included a $13.6 million increase in doubtful debts and a $9.6 million write-down of the company's Internet of Things platform on the expenses side, and $7.7 million in reduced executive base salaries and compensations, and a $3.3 cut to marketing spend on the savings side.
With these one-offs stripped away, Breville's normalised NPAT grew 11.2 per cent to $75 million. Total sales across the company rose 25.3 per cent to $952.2 million thanks to more customers working and cooking from home during the pandemic.
"In FY2020 we faced a cluster of headwinds in the form of Brexit uncertainty, exchange rates, US tariffs and COVID-19 and equally we had our share of good fortune in terms of our inventory levels and the relevance of our products to the 'new normal'," chief executive Jim Clayton said.
"We emerge from FY20 with momentum and a hardened foundation to build upon over the next five years."
The company raised its dividend by 10.8 per cent to 41 cents per share, based on its normalised NPAT.
Breville did not provide any guidance or outlook for the first few months of the 2021 financial year.
Breville shares closed at $27.29 on Wednesday and have risen nearly 60 per cent in 2020.
QBE Group is paying a small dividend of 4c a share despite its bottom line falling into the red, as it expressed confidence that rising insurance prices would help improve its profitability.
The global insurer on Thursday announced a US$712 million loss for the half, slightly better than the US$750 million loss it flagged last month.
It said insurance price rises were accelerating, but catastrophe claims increased sharply as a result of the summer's bushfires and storms, and it exceeded its allowance for such payouts by US$56 million. Costs from prior year claims also rose by US$120 million, while it made a loss of US$90 million on its investments.
The dividend has been slashed by 84 per cent to 4c a share, but many analysts had not expected a payout at all.
Chief executive Pat Regan said: "I am encouraged by the strong underlying trends evident in the result. Notwithstanding uncertainty surrounding the enduring impact of the COVID-19 pandemic, our greatly strengthened capital base positions us well to capitalise on accelerating pricing momentum and emerging organic growth opportunities."
QBE said its combined operating ratio — which compares claims and other expenses to total premium — was 103.4 per cent. A ratio of above 100 per cent indicates the underwriting activity is unprofitable.
However, Mr Regan was more optimistic about the outlook, saying he was confident the business could "drive sustained margin improvement."
QBE shares closed at $10.06 on Wednesday, and have shed 22 per cent in 2020 against an 8.3 per cent decline for the ASX 200.
Telstra's profit has fallen by 14.1 per cent as the coronavirus pandemic and national bushfire crisis put pressure on the telco.
Australia's largest telco provider reported a 6 per cent dip in total income to $26.2 billion and net profit after tax of $1.8 billion for the full financial year, but the results are in line with guidance and the company will pay its final 8c dividend to shareholders.
Earnings before interest tax depreciation and amortisation was $8.9 billion.
Telstra chief executive Andrew Penn said the result showed the telco's resilience.
"Importantly, it says a lot about the strength of our business and strategy that through all this we were able to meet guidance, maintain the dividend and provide guidance for the year ahead," Mr Penn said.
The company expects total income to be in the range of $23.2 billion to $25.1 billion next financial year and underlying EBITDA to be in the range of $6.5 billion to $7 billion.
Telstra shares closed at $3.29 on Wednesday.
Troubled wealth giant AMP's has reported double-digit losses across all four of the company's divisions for the half-year as chief executive Francesco De Ferrari acknowledges the company has a culture problem.
Operating earnings fell by 43 per cent in AMP's domestic wealth management business, 40 per cent in AMP Capital, 30 per cent in AMP Bank and 18 per cent in its New Zealand wealth management arm, the company reported in a statement to the ASX on Thursday morning.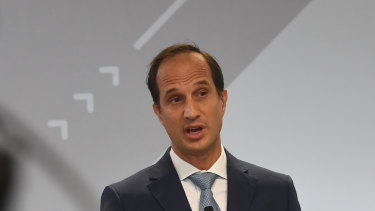 Despite the losses, AMP defied market expectations deciding to pay shareholders a fully franked special dividend of 10¢ a share. However, it said this meant the board did not expect to pay a final dividend for FY20.
The wealth giant also confirmed its underlying profit had more than halved to $149 million, compared to $309 million reported in the same period last year, as a result of the volatility brought on by the coronavirus crisis and foregone profit from the sale of AMP Life.
AMP shares closed at $1.38 on Wednesday.
IG MARKETS SPONSORED POST
ASX futures up 45 points, or 0.7 per cent, to 6133 at 9am AEST
AUD at 71.62 US cents at 6.16am AEST
On Wall St: Dow +1.1% S&P 500 +1.4% Nasdaq +2.1%
Spot gold +0.2% to $US1916.35 an ounce
Brent crude +1.8% to $US45.32 a barrel
US oil +2.3% to $US42.57 a barrel
Iron ore +0.3% to $US121.51 a tonne
10-year yield: US 0.66% Australia 0.91% Germany -0.45%
IG MARKETS SPONSORED POST
The Australian sharemarket is poised to open higher this morning as Wall Street jumped, with the S&P 500 closing just shy of a record high. Another big day of results beckons, with AMP, Telstra, Treasury, Woodside and QBE among those reporting, while jobs data is out this morning. Shortly before 9am AEST, futures are pointing to a gain of 42 points, or 0.7 per cent, at the open.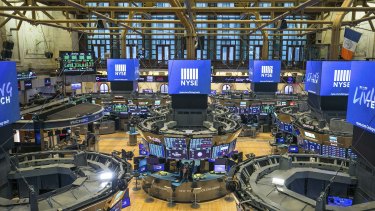 Optimism sent Wall Street to the cusp of a record close, with the S&P 500 finishing just a handful of points shy. Tech heavyweights led the way, with Tesla jumping 13 per cent after its stock split. Heavyweights Microsoft, Amazon.com and Apple were the top boosts to the S&P 500. Investors were seemingly not perturbed by the continuing stalemate in Washington over coronavirus aid.
Labour force figures for July will give another snapshot of the havoc wreaked by the coronavirus on the Australian economy. On Wednesday, Australian Bureau of Statistics figures showed the worst wage growth on record. Through the June quarter, the national wage price index increased by 0.2 per cent, taking the annual rate down to 1.8 per cent. Both results were the worst for the index which the bureau started publishing in 1997.
A big day is ahead, with AGL, AMP, Breville Group, Charter Hall Retail, Evolution Group, Goodman Group, QBE Insurance, Telstra, Treasury Wine and Woodside Petroleum due to report. CBA's result highlighted yesterday's busy calendar, with the giant handing out a higher-than-expected 98c dividend.