Wages in Victoria fell by 0.1 per cent, the first time any state or territory has ever recorded a negative quarter, and the wage data covered the period before the introduction of stage three lockdowns across parts of Melbourne. Wages in NSW were flat.
The bureau said of those wages that were cut, mostly for higher income earners and managers, the average reduction was more than 13 per cent.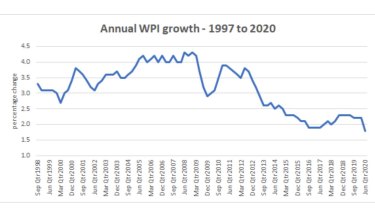 Commonwealth Bank senior economist Belinda Allen said the combination of slowing wages growth and the tapering of government support measures such as JobKeeper meant Treasurer Josh Frydenberg should use the October budget to bring forward personal tax cuts.
"This bolsters the case for the already legislated personal income tax cuts to be brought forward from the current 1 July 2022 start date to boost real household income growth as wages and salaries growth will remain weak," she said.
The government is considering bringing forward the tax cuts as part of a multibillion-dollar plan to bolster the economy but there are concerns they will largely benefit middle and higher income earners.
Westpac's closely watched measure of consumer sentiment revealed the impact of Victoria's troubles with the coronavirus.
Consumer confidence has tumbled back to where it was during the depths of the national shutdown in April with people in NSW the most downbeat in the country.
Confidence fell by 9.5 per cent in August to be just above where it was during late April.
While sentiment dropped by 8.3 per cent amongst Victorians, it plummeted 15.5 per cent in NSW which is now home to the most pessimistic shoppers in the country.
Confidence about the economy over the next 12 months took a huge hit, falling 19 per cent in the survey to be 30 per cent down since June. It is now at a lower level than during the depths of April.
Loading
New forecasts from economists at the NAB suggest consumers might be right, with the bank expecting the economy to shrink by 5.7 per cent this year and then grow by 3.1 per cent through 2022. The economy won't be back to its pre-virus level of output until the following year.
Unemployment is now tipped to reach 9.6 per cent early next year with house prices, due to a lack of wages and jobs growth, forecast to drop by between 10 and 15 per cent.
BIS Oxford Economics chief economist Sarah Hunter warned people not to expect wage growth any time soon.
"Wages growth is likely to remain very weak given the collapse in employment and depressed economic environment," she said.
"And with many state governments announcing plans for wage freezes in the face of budget pressures and the pace of inflation falling back sharply (which will feed through to wage agreements), momentum in public sector wages is also likely to soften in the near term."
Get our Morning & Evening Edition newsletters
Shane is a senior economics correspondent for The Age and The Sydney Morning Herald.