When Biden announced his choice the previous day, Trump said Harris had been "nasty", "mean" and "disrespectful" to Biden during the Democratic debates and Supreme Court justice Brett Kavanaugh during his confirmation hearings.
Biden described Harris, who previously served as attorney-general of California, as "smart, tough, experienced" and a "proven fighter".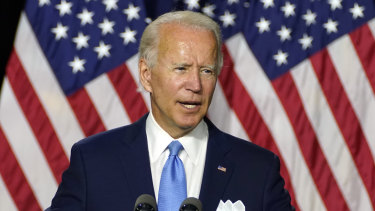 "She is ready to do this job on day one," Biden said.
Biden said he wanted Harris to serve the same role in his administration as he did for former president Barack Obama: to be the last person in the room before he made important decisions.
"I asked Kamala to be the last voice in the room," he said.
Loading
The Biden campaign revealed it had raised US$26 million ($36 million) in the 24 hours since Biden announced Harris his running mate – a figure that doubled the campaign's previous record.
Act Blue, the leading progressive online fundraising arm, reported taking in almost US$11 million ($15 million) in the hours after the Harris announcement.
Harris said she was "incredibly honoured by this responsibility" of being on Biden's ticket, describing the November 3 election as a "moment of real consequence for America".
"I am ready to get to work," she said.
"Everything we care about, our economy, our health, our children, the kind of country we live in, it's all on the line. We're reeling from the worst public health crisis in a century. The President's mismanagement of the pandemic has plunging us into the worst economic crisis since the Great Depression."
Although they remained physically distanced throughout the event, the rapport between Biden and Harris was evident.
Harris spoke about how she had become close friends with Biden's late son Beau when they were serving as attorneys-general during the global financial crisis of 2008.
"He was the best of us," Harris said of Beau Biden, who died of cancer at age 46 in 2015.
"And when I would ask him where he got that from, he always talked about his dad. "The love they shared was incredible to watch."
Displaying the skills she honed as a prosecutor, Harris went on the attack against Trump's handling of the coronavirus pandemic and the economy.
"The case against Donald Trump and Mike Pence is open and shut," she said.
"This virus has impacted almost every country, but there's a reason why it hit America worse than any other advanced nation. It's because of Trump's failure to take it seriously."
She continued: "He inherited the longest economic expansion in history from Barack Obama and Joe Biden. And then, like everything else he inherited, he ran it straight into the ground."
Because of social distancing protocols, Biden and Harris appeared in a largely empty gym rather than the packed arena of supporters that would normally be typical for such an event.
Matthew Knott is North America correspondent for The Sydney Morning Herald and The Age.