The Victorian coronavirus outbreak will set back Australia's economic recovery, Reserve Bank governor Philip Lowe has warned, saying it is unlikely the economy will start growing until the final three months of the year.
Dr Lowe, giving evidence to the House of Representative's Economics Committee, has also revealed inflation is unlikely to get back to the RBA's target band of 2 per cent to 3 per cent for at least three years, signalling no change in official interest rates for a similar period of time.
The government and RBA had, before the outbreak in Victoria, been expecting a lift in the September quarter after a deep fall in activity through the June quarter.
Dr Lowe said the June quarter was likely to show the economy shrinking by 7 per cent, the largest contraction in "many decades". The events in Victoria now meant it was unlikely the economy would recover sharply.
"We expect the (Victoria) outbreak will reduce GDP growth in the September quarter by at least 2 percentage points. This will broadly offset the recovery that has been taking place in most other parts of the country," he said.
"As a result, we are now not expecting a lift in economic growth until the December quarter."
The RBA cut official interest rates to a record low of 0.25 per cent in March.
Dr Lowe said the bank would not be lifting rates until there was a shift towards "full employment" and inflation was sustainably back within the RBA's 2-3 per cent inflation target band.
"Given the outlook I discussed earlier, these conditions are not likely to be met for at least three years," he said.
"So it is highly likely that the cash rate will be at this level for some years."
Victoria has recorded 372 new coronavirus cases and a further 14 deaths, with epidemiologists cautiously optimistic the state's second wave of infections has turned a corner.
It comes after the state recorded 278 new cases on Thursday – its lowest number of infections in weeks and less than half the record total of 725 notched up last Wednesday.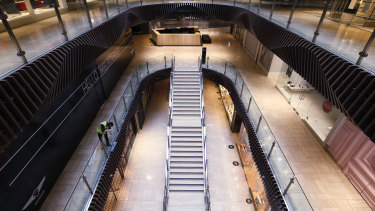 "I am 100 per cent convinced we are well past the peak and are heading down quite quickly," said Professor Adrian Esterman, chair of biostatistics at the University of South Australia.
Meanwhile, patient zero in Victoria's calamitous second wave of COVID-19 was not a badly behaved security guard but a night duty manager at the Rydges hotel on Swanston Street, one of Melbourne's busiest quarantine hotels.
Leaked emails show the night manager reported on Monday, May 25, that he had come down with a fever, and late on the afternoon of the following day Department of Jobs, Precincts and Regions officials were told the hotel employee had tested positive. It is presumed he caught it from a returned traveller, who has not been identified.
Queensland has recorded two new cases of coronavirus, one a returned traveller from Sydney in hotel quarantine and the other a person on a cargo ship off the coast.
The findings from the Ruby Princess inquiry are expected to be handed down today.
As the dust clears from Telstra's disaster of an earnings day, our tech and telco supremo Supratim Adhikari has penned some thoughts:
"Apart from the cost-cutting, Telstra's bid to become a leaner, fitter organisation relies on its ability to use technology to streamline its operations. Automation and digitisation are words that Penn and his team have been quick to spout lately, and they are going to figure even more heavily over the next six to eight months.
"Taking costs out of the business, making operations more efficient and pumping money into reinforcing its mobile network are the levers that Penn has at his disposal when it comes to making sure the underlying earnings for fiscal 2021 ends up landing between $6.5 billion to $7 billion.
"Other than that, the future trajectory of Telstra fixed broadband and mobile business is beholden to forces outside of the telco's control. The NBN is set to slice another $700 million from its earnings and there's no sign of wholesale prices coming down anytime soon. Telstra's is in no position to raise prices on its NBN plans to lift its shrinking margins on that front."
Shares in the company fell 8.3 per cent to $3.11 on Thursday.
Rating changes, via Bloomberg
AGL Energy (AGL): Raised to Overweight at JPMorgan; PT $17.30
BHP (BHP): Cut to Neutral at Clarksons Platou Securities; PT $40
Breville (BRG): Raised to Buy at Goldman; PT $30.35
Charter Hall Retail (CQR): Cut to Hold at Jefferies; PT $3.52
Evolution (EVN): Raised to Hold at Canaccord; PT $5.40
Flight Centre (FLT): Cut to Neutral at Citi; PT $13.50
Premier Investments (PMV): Cut to Sell at Morningstar
Telstra (TLS): Cut to Hold at Morgans Financial; PT $3.21; Cut to Hold at Jefferies; PT $3.26.
Stem cell treatments producer Mesoblast clocked a big win overnight after an expert panel in the US voted in favour of approving its remestemcel-L product for treating graft-versus-host disease in children.
The meeting of the Oncologic Drug Advisory Committee in the US sent Mesoblast shares on a rollercoaster this week, dropping 35 per cent over Tuesday and Wednesday after briefing notes suggested the FDA would have tough questions for the company about its clinical trial results. Shares in the firm bounced back on Thursday with a 10.1 per cent rise to $3.38.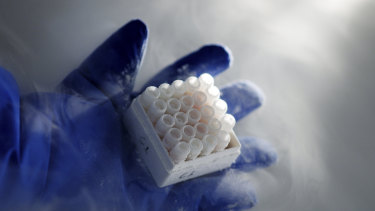 Over 8 hours the expert panel grappled with a range of questions about the treatment, which is designed to help lessen the severe immune reaction which can occur after a bone marrow transplant.
They questioned whether the company's "single arm" study, which did not have a group of patients receive a placebo, was enough to show the treatment was effective. Many of the medical experts acknowledged it is very difficult to recruit for a trial in children where some might receive a placebo instead of the trial drug.
Just after 7am AEST they voted in favour, 8-2, to the question of whether remestemcel-L was shown to be efficacious in treating the disease.
This paves the way for the FDA to formally approve the treatment in the US, a goal which Mesoblast has had for more than a decade. The company entered a trading halt on Thursday evening ahead of an update from the company on the situation.
National Australia Bank's third-quarter profits slumped 7 per cent, as the lender said it was seeing early signs of deterioration in credit quality and warned it would be "increasingly challenging" to hit its target on costs management.
In a trading update on Friday, NAB reported unaudited cash earnings of $1.55 billion, which was 7 per cent lower than the same quarter last year.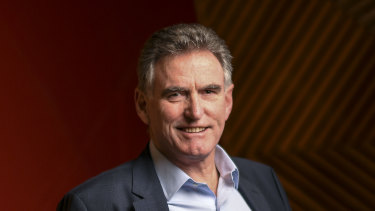 While NAB said its revenue rose due to higher income from trading activity in its markets and treasury areas, it said that excluding these factors, lower interest rates were starting to grind its profit margins lower. Credit impairment charges of $570 million during the quarter were higher than the same quarter last year, but lower than the previous June quarter when it took a large provision for COVID-19-related bad debts.
NAB shares were worth $18.01 before trade on Friday and have fallen 27 per cent in 2020 against an 8.9 per cent fall for the ASX 200.
IG MARKETS SPONSORED POST
ASX futures are down 3 points, or 0.1 per cent to 6044 at 6.59am AEST
On Wall St: Dow -0.3% S&P 500 -0.2% Nasdaq +0.3%
Spot gold +1.9% to $US1951.61 an ounce
Brent crude -0.8% to $US45.09 a barrel
US oil -0.8% to $US42.35 a barrel
Iron ore -0.1% to $US121.38 a tonne
10-year yield: US 0.72% Australia 0.88% Germany -0.42%
IG MARKETS SPONSORED POST
The Australian sharemarket is set to edge lower at the open after a middling night on global markets, with Wall Street slipping lower. Shortly before 9am AEST, futures were pointing to a loss of 3 points at the open. It is a quieter earnings day, with Newcrest, Iluka and a quarterly update from NAB the highlights. RBA Governor Philip Lowe is speaking at 9.30am AEST.
It was a flavourless day in global markets, as the US stockmarket pulled-back from challenging its all-time highs. Despite the stage appearing set earlier in the week for a break-out in volatility, market action was subdued overnight.
The markets remain at a crossroad, in large part due to continued political gridlock in Washington. Congressional Republicans and Democrats are yet to reach a deal on a new round of fiscal stimulus, with Republican Senate Leader Mitch McConnell announcing overnight the next legislative session to pass the matter wouldn't be until September.
The data flow out of the US did continue to show an economy in a state of recovery. US jobless claims numbers were published for the week and revealed that the number of Americans applying for unemployment benefits fell below one million for the first time since the end of March.
Good morning all, and welcome to this week-ending edition of Markets Live.
Your editor today is Alex Druce.
How's your trading been this week? Drop us a comment!
This blog is not intended as financial advice