"The transport sector is one of the biggest contributors to Australia's greenhouse gas emissions and on a per capita basis, our nation's emissions are nearly four times the global average," Ms Still said.
The Department of Environment and Energy estimated about 18 per cent of all greenhouse gas emissions and 25 per cent of carbon dioxide emissions in Australia were caused by transport.
Air pollution also contributed to the deaths of 2566 Australians in 2015 alone, more than twice the number of road deaths in 2018, according to the Australian Institute of Health and Welfare.
Ms Still said Australia lagged behind other countries in tackling emissions and was the only developed nation without a mandatory carbon dioxide standard for new light vehicles.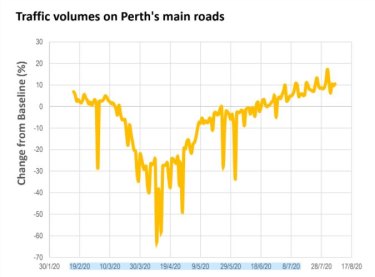 "Australia is facing a huge challenge in tackling harmful vehicle emissions, which is why we need a
roadmap from government on how we can accelerate the transition to cleaner transport through
policy, investment and incentives," she said.
In July, WAtoday revealed patronage on the Transperth network had dropped to a historical low during the pandemic, with 150,000 fewer SmartRider transactions a day than the same time a year earlier.
Traffic along Perth's main thoroughfares also increased from about 1 million cars per week in April to 1.4 million in June, which translated into council-owned carparks reaching capacity as early as 8am most weekdays.
The new figures released by RAC show traffic increased to pre-pandemic levels by early July before rising nearly 20 per cent above the average traffic volume in August.
The highest weekday increase was recorded on August 6.