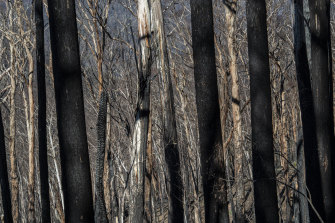 Loading
In his April 3 reply, Mr Kean wrote that the "best available science" showed the park had about19,000 horses before the fires. The latest advice indicated "the post-fire impacts of wild horses will impede recovery of the park, especially in sensitive ares containing threatened species habitat and around waterways".
"Areas of high biodiversity value … and swamps, bogs and fens are at risk of irreparable damage," Mr Kean wrote.
Mr Barilaro followed up with a second letter dated June 4, telling Mr Kean he was "pleading that you reconsider" the need for an urgent survey, adding the plan to trap and remove animals was "causing great distress within the local community".
He said the estimated figure of 19,000 horses was "simply not reflective of what locals know and subsequent surveys show", and that the removal of the animals was a "reckless act".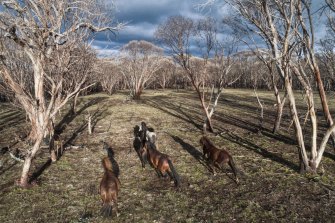 Mr Kean waited until after the Land and Environment Court had dismissed a bid to halt the horse removal before replying.
He wrote on July 22 that the court had found the horse control program to be "an appropriate response to scientific advice".
The target was to reduce horse numbers in three key regions, the Nungar, Cooleman and Kiandra plains, that make up about 9 per cent of the park area.
Loading
The brumby population was about 4000 in those areas and the aim was to reduce numbers "towards sustainable levels" and to find new homes for as many as possible.
Mr Kean told The Sun-Herald the outcomes had included input from the community and scientific panels that included members handpicked by Mr Barilaro.
"I'm just going to keep going," Mr Kean said.
Mr Barilaro, though, indicated he wasn't going to back down either.
"The brumbies perished in the fires and we need an urgent recount – simple as that," he said. "What does National Parks have to hide? What does the Environment Minister have to hide?"
Loading
"A recount ends the battle," Mr Barilaro said. "The facts will speak for themselves."
David Lindenmayer, a leading ecologist at the Australian National University, said he had recently visited the park and seen some of the impact from herds now concentrated in unburnt parts of the park.
"It's a very special place and a very sensitive one – and even more sensitive when it's been burnt," Professor Lindenmayer said.
"Now is the time you need to be really reducing the numbers otherwise the damage will be astronomical."
Get our Morning & Evening Edition newsletters
Peter Hannam writes on environment issues for The Sydney Morning Herald and The Age.
Most Viewed in Environment
Loading