"Meanwhile, mail delivery is slowing down under other decisions made by DeJoy, such as eliminating overtime for postal workers."
The protest comes as Trump continues to rail against the idea of mail-in voting – a system that has been in place for decades but has become increasingly important this year so that states can carry out elections safely amid the coronavirus crisis.
The President has repeatedly insisted that such a process would lead to widespread voter fraud, and doubled down this afternoon at his press conference, telling reporters: "Universal mail in voting is going to be catastrophic; it's going to make our country a laughing stock all over the world."
There is little evidence to back up the President's claims of fraud, with Democrats and voting rights advocates accusing him of making the claims in order to cast doubt about the outcome of the November 3 election.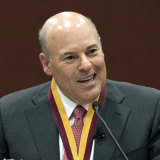 Nonetheless, the unprecedented number of votes that are likely to be cast by mail this year has raised genuine concerns about the ability of the US Postal Service to handle the volume, particularly in a country where voter suppression has long been an issue.
Asked if DeJoy had his ongoing support, Trump replied: "Yes, he's a fanastic man. He wants to make the post office great again."
DeJoy has consistently said the operational changes at the USPS were necessary due its dire financial position. However, the internal watchdog at the USPS is now reviewing the controversial policy changes imposed by DeJoy, and is also examining his compliance with federal ethics rules.
This came after Senator Elizabeth Warren and eight other Democratic lawmakers asked the Inspector General to launch an inquiry into DeJoy's initiatives, and whether he has "met all ethics requirements".
Republicans and Democrats are now in a stand off over billions of dollars in funds that could improve the postal service.
This week, in an interview with Fox News, the president suggested that he was effectively blocking, for political reasons, a Democrat proposal to boost funding.
"They need that money to make the post office work so it can take all of these millions and millions of ballots," he told Fox News. "If we don't make a deal, that means they don't get the money; that means they can't have universal mail-in voting. They just can't have it."
DeJoy's appointment raised eyebrows this year because he is known as a Republican fundraiser and prolific political donor.
Farrah Tomazin is a senior journalist based in the US for the 2020 presidential election.