Altium has beaten earnings expectations for its 2020 financial year, but flagged the tough pandemic conditions could see it miss earnings and margin targets for the current financial year. Altium has already downgraded forecasts since the COVID-19 outbreak and missed its aspirational target for revenue of $US200 million for the year ending June 30.
But it managed to increase its subscription base to more than 51,000 while reporting better than expected earnings before interest, tax, depreciation and amortisation (EBITDA) of $75.6 million.
Chief executive Aram Mirkazemi said the strong result allowed the company to lift its final dividend to 19¢ per share compared to an 18¢ final dividend last year.
"This is the hallmark of a company that is financially strong and a market leader," he told analysts and investors on Monday morning.
Net profit dropped 42 per cent to $30.9 million as it sacrificed earnings to hit its subscriber target of more than 50,000 users for 2020.
RBC analysts said the EBITDA beat would be welcomed by the market but noted the increase in accounts receivable as customers terms were extended during the pandemic. RBC also said 2020-21 guidance range is lower than market consensus with mid points for sales expectations about 6 per cent below the market and EBITDA guidance from 2 per cent to 7 per cent below.
Altium develops software that designs the electronic circuitry at the heart of a growing range of everyday goods being connected to the internet. The long term goal is to create a digital platform to manage the design, manufacture and distribution of goods for the $US2 trillion global electronics industry but it flagged that some of its long term milestones may be delayed.
"We are on track to achieve 100,000 subscribers by 2025, having just passed the the half-way mark. Due to COVID-19, however, we may take an additional 6 to 12 months to achieve our 2025 goal of $US500 million in revenue," said Mr Mirkazemi.
He also warned the continuing impact of COVID this year means it may not meet its 'Rule of 50' where the company commits to revenue growth plus an EBITDA margin greater than 50. While the company will strive to meet this goal in a pre-vaccine environment Mr Mirkazemi said Altium will need to contend with the evolving conditions.
Billionaire and founder of Platinum Asset Management Kerr Neilson will step down from his role of investment analyst, leaving portfolio management responsibilities to the group's investment team.
"The trouble with high performance investing is that it requires total immersion; it is all consuming of one's time. Working from home has softened me up and caused me to ponder wider social issues," Mr Neilson said in a statement filed with the ASX.
"Having seen the team grow and mature over the years, I am confident in their ability to meet clients' high expectations."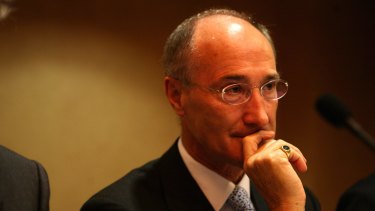 Mr Kerr stepped down as Platinum chief executive in 2018 causing the group's share price to plunge by 12 cent.
The South African born finance giant has since worked as an analyst to generate investment ideas and from the end of this month, he will remain at the company as a non-executive director.
Mr Kerr became one of Australia's most respected money managers after building a reputation within Bankers Trust during the 1980s. There, he famously ensured his investors were defensively positioned prior to the sharemarket crash of October 1987.
Mr Neilson founded Platinum with four former Bankers Trust colleagues in 1994 and remains the group's largest shareholder.
Lendlease has swung to a $310 million full-year loss from $467 million profit a year ago, as the infrastructure firm's bottom line was ravaged by the coronavirus and the cost of its engineering business exit. Shares are down 3.9 per cent to $11.07 in early trading.
Group CEO and managing director Steve McCann said the "disappointing" result brought to account the $368 million cost of the exit of the engineering operations, while the core business slumped to a $212 million second-half loss as a result of COVID-19.
Delays were experienced in converting development opportunities across the company's urbanisation pipeline and the communities business experienced weak trading conditions, Lendlease said.
"In construction, the impact was greater in our international regions, particularly in cities where mandated shutdowns were implemented. This included lower productivity, projects being put on hold and delays in the commencement or securing of new projects," the company told investors.
The Group's investment portfolio was impacted by declining real estate values as a result of deteriorating market conditions.
Mr McCann said the profit plunge was mitigated by cost reductions and a review of project expenditure as well as a $1.15 billion capital raising.
The sale of the Engineering business is anticipated to complete shortly, subject to the satisfaction of the final conditions. The sale price is $160 million, payable in instalments in FY21 including completion adjustments.
The firm will pay a total distribution of 33.3¢ per share.
Online retailer Kogan has heralded a revolution in Australia's retail sector thanks to the coronavirus pandemic, with the e-commerce player reporting a huge jump in sales and earnings for the 2020 financial year.
Kogan, which operates an online-only retail platform, increased its revenue by 13.5 per cent to $497.9 million compared to the prior year. Gross sales, which includes all sales made through the company's third-party platforms, rose nearly 40 per cent to $768.9 million.
Net profit after tax rose 55.9 per cent to $26.8 million. Total active customers at the e-tailer has now topped 2.18 million, up 35.7 per cent on 2019.
Kogan's strong results were not unexpected, as the company has been regularly updating investors on its monthly sales figures throughout the pandemic, which have surged thanks to a work-from-home spending boom.
Fuel supplier Caltex, now midway through a major Ampol rebranding effort, is spinning off half of its service station properties into a 1.4 billion million trust half owned by Singapore sovereign wealth fund GIC and local real estate manager Charter Hall Group.
Charter Hall in partnership with GIC has acquired a 49 per cent stake in the Ampol Property Trust for $682 million which will own 203 of Ampol's newly rebranded convenience retail outlets throughout Australia.
The Australian fund manager, known for its expansive ambition and active deal making, will end up with a 5 per cent stake, worth $34 million, in the trust, with the bulk of ownership weighted towards the Singaporeans.
The deal is likely to scotch a long running takeover play by Canadian giant Alimentation Couche-Tard and privately owned British company EG Group who were vying for Caltex's Australian listed infrastructure and refinery company before the COVID-19 pandemic struck.
Couche Tard said in April it would return to the table with an offer for Caltex once the pandemic was contained after talks about its $8.8 billion were scuttled "through no fault of either party."
EG, also waiting out the pandemic, was mulling reviving its $3.9 billion in cash offer for Caltex's convenience store business and separate shares in a new, listed infrastructure and refinery company to be renamed to Ampol made up of Caltex's remaining assets.
Ampol's portfolio will have initial lease terms ranging from 11 through to 22 years, a 19.2 year weighted average lease expiry and 10 year initial lease renewal option terms, along with multiple 5 year options after.
Japan's gross domestic product shrunk 27.8 per cent in the March to June quarter on an annualised basis, worse than the expected 26.9 per cent decline. The figures have just come out this morning and futures for Japan's Nikkei are showing a decline of 0.6 per cent, the ASX200 futures are still pointing to a decline of nearly 1 per cent when the market opens in a few minutes.
Compared to the previous quarter, GDP shrank 7.8 per cent compared to an estimate of -7.5 per cent.
In currency markets the Yen is softer today against major currencies and is back near six-month highs against the Australian dollar at 76.63 yen per dollar.
The former chief executive of Transurban, Chris Lynch, is joining the board of Westpac as it goes through a period of renewal under new chairman John McFarlane.
Westpac on Monday said Mr Lynch, also a former finance chief of Rio Tinto, would join the banking giant's board from September.
Mr McFarlane said: " We are delighted to welcome Chris to the Board as we continue the process of board and executive renewal. Chris will bring new insights to the board with his senior domestic and international experience."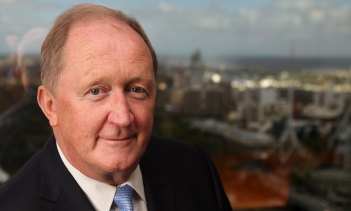 Mr Lynch said he was honoured to join the board and he highlighted the importance of a strong banking sector for the economy.
Westpac's board has been through a series of changes after last year's money laundering compliance scandal. Former chairman Lindsay Maxsted retired early, while former risk and compliance chair Ewen Crouch did not stand for re-election.
Australia's biggest steelmaker, BlueScope, has reported a 91 per cent fall in its statutory net profit to $96.5 million, due to a $197 million non-cash write-down of its New Zealand division and declining steel profitability during the year.
The company flagged redundancies and cost-cutting at its New Zealand operations and warned in the future it could be forced to cease steelmaking at its Glenbrook, New Zealand facility.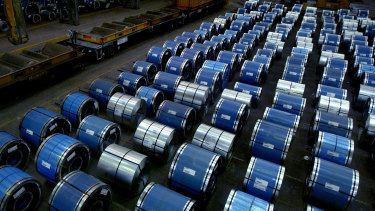 In its 2019-20 financial year results released before the market opened on Monday, BlueScope reported full-year revenue of $11.28 billion, down 10 per cent on the prior year.
On an underlying basis BlueScope reported a net profit of $353 million, which was in line with Bloomberg market consensus. It will pay a final dividend of 8 cents per share, the same as last year.
Rating changes, courtesy of Bloomberg
Harvey Norman (HVN): Raised to Overweight at JPMorgan; price target $4.75
Metcash (MTS): Raised to Outperform at Credit Suisse; price target $3.47
NAB (NAB) Cut to Underperform at Jefferies; price target $15.13
Navigator Global (NGI): Raised to Buy at Ord Minnett; price target $2.30
Telstra (TLS): Cut to Neutral at JPMorgan; price target $3.40
Bendigo and Adelaide Bank has deferred its final dividend after cash profits slumped by more than quarter due to a sharp increase in bad debts sparked by the coronavirus pandemic.
The regional lender on Monday reported a 27 per cent fall in cash profit to $301.7 million, with most of the fall explained by a $127.7 million provision for COVID-related soured loans, which was announced in May.
Total lending grew by 5.1 per cent and total deposits gained grew by 5.7 per cent, as its consumer banking arm grew at a faster pace than the market average.
Despite the regulator allowing banks to pay up to half their profits as dividends, Bendigo deferred its decision on the payment, with chair Jacqueline Hey highlighting the uncertain outlook.
"Whilst economic uncertainty remains and the full impact of COVID-19 is still evolving, the Board has acted prudently in considering the interests of shareholders and APRA's industry guidance on capital management, to defer a final dividend decision," Ms Hey said.
The banks said it expected market conditions to remain challenging, and it was unable to provide meaningful guidance for the year ahead.