Pregnant federal MPs have warned they risk being shut out of parliamentary discussions because of the failure to agree on virtual participation with video-conferencing technology when Parliament returns later this month.
The MPs warn the lack of flexibility reflects a structural problem that makes federal politics less inclusive than the private sector and deprives women and young people of representation in Canberra.
Labor MP Kate Thwaites, who represents the Melbourne seat of Jagajaga, warned she would not be able to participate in the upcoming parliamentary session because she was not able to travel to Canberra for the required two weeks of quarantine.
"I have got some medical appointments for my pregnancy coming up this week, which means I need to be in Melbourne. I can't be in quarantine in Canberra," she said.
"The current restrictions mean that for those of us with young families or with medical issues, it is really hard to get to Canberra to represent our constituencies."
The AFL will develop a set of key criteria to assess various state government proposals to host the grand final if, as expected, the door eventually slams shut on the match being played at the MCG in Melbourne.
Although financial considerations will remain a key component, the league will put significant weight on the safety of the players and the community, the potential for crowds, the quarantine protocols and travel restrictions in place in individual states, the possibility of holding events leading into the match and the long-term effect on the game's growth.
With Queensland, NSW, Western Australia and South Australia all vying to win the right to host the grand final, which economist Tim Harcourt, from the UNSW Business School, estimates could be worth more than $10 million to the winning bidder's economy, depending on crowds, the AFL's decision is going to be difficult.
The criteria will be designed to help the executive and AFL Commission to work through the pros and cons of each case with governments expected to lobby hard.
Sydney Lord Mayor Clover Moore is facing pressure to cancel this year's New Year's Eve fireworks, as she concedes it "may not be responsible" to encourage large crowds to the harbour foreshore.
Councils across Sydney are awaiting guidance from the City of Sydney and state government before they make their own local preparations for New Year's Eve.
"The clock is ticking and the longer the City of Sydney leaves it, the harder it will be for us all to deliver a safe event," North Sydney mayor Jilly Gibson said. "Mayor to mayor, I'm asking Clover to call this."
A spokeswoman for Waverley Council said New Years' Eve festivities were "ultimately contingent" upon the City of Sydney fireworks going ahead but the council would also conduct a risk assessment.
Cr Moore said the end-of-year celebrations would not be held if NSW Health and the police "can't be certain" that the event can be held safely.
Dr Skye Kinder doesn't consider herself "a hero" or a martyr for doing her job supporting Victorians during COVID-19, just a regular young doctor aware of both mental health and life on the ground for healthcare workers.
Well-meaning though it may be, the idea doctors, nurses and other healthcare workers can disconnect from worry about their own health as they risk it caring for others is not what they need to hear, she says.
Despite the "doctors are heroes" goodwill during the pandemic, being considered a breed apart in a crisis they are also feeling personally is hard, says Dr Kinder, a registrar psychiatrist at a large public hospital.
"It's a stressful time, and we are in the very unique position of helping people to manage their stressors around something we are simultaneously experiencing; as opposed to times outside the pandemic when we may be helping people with problems we aren't necessarily experiencing ourselves," she says.
"In the same way this pandemic has brought up grief, distress and the experience of isolation for other members of the community, [healthcare workers] are also going through that ourselves. It's compounded for some working in emergency departments and intensive care, who are also managing the disability and death of people as a result of COVID-19."
Vulnerable community members have been walking around Melbourne's inner-south east despite a COVID-19 outbreak occurring at the special accommodation facility in which they reside.
Up to five residents and one staff member at Hambleton House, an Albert Park facility for residents with mental health or behavioral conditions, have tested positive to COVID-19, the Department of Health and Human Services confirmed late on Saturday.
The manager of the facility slammed the Victorian Health Department for handling the outbreak "atrociously" and not evacuating ill patients from the home.
The residents have been attending local shops, pharmacies and other public places since the outbreak began, according to the manager and a local resident, both of whom did not want to be named.
"The Health Department has been saying the positive residents would be taken away but no one has been transported," the manager said.
The mid-week trivia night – it's a staple of Australian pubs. There's the pun team names, the music round, and, depending on the generosity of the venue, the bonus prize bottle of wine.
Recreating the pub experience at home during the COVID-19 pandemic hasn't only been limited to getting tap beer and chicken parmigiana delivered to the door. Trivia nights have also gone online to provide the entertainment.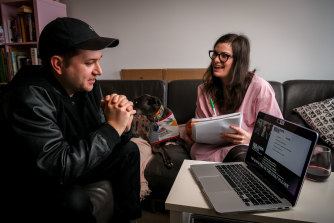 One of the most successful is Isolation Trivia, run by Brisbane quizmaster Aimon Clark. As venues closed during the first lockdown in Queensland, he kept in touch with his regulars by streaming on Facebook.
It took off quickly. Where he would normally have a room of 100 people, Aimon regularly drew online audiences in the thousands around the country. Some have even been tuning in from overseas. His biggest nights have had around 10,000 views.
"It just ended up being bigger than I ever thought it would," he said. "It's all very wild, it's still hard to comprehend."
France is to propose that masks be worn in shared workspaces as the country grapples with a rebound in coronavirus cases that rose again in the past 24 hours to over 3000.
The health ministry reported 3310 new coronavirus infections, marking a post-lockdown high for the fourth day in a row.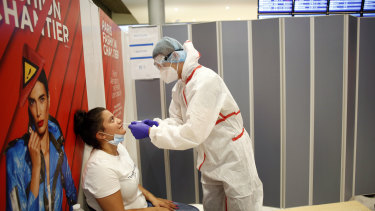 The number of clusters being investigated increased by 17 to 252, it said in a website update.
The resurgence prompted Britain to impose a 14-day quarantine for people arriving from France, and led the authorities in Paris to expand zones in the capital where wearing a mask is mandatory outdoors.
Employment Minister Elisabeth Borne said she would propose on Tuesday at talks with employer and union representatives that masks be compulsory in collective workspaces.
"A theme that appears in all scientific opinions is the value of wearing them (masks) when there are several people in a confined space," Borne said in an interview with French newspaper Le Journal du Dimanche.
Doctors have increasingly called for masks to be required in the workplace while the HCSP, a body advising the government on health policy, issued a recommendation calling for masks to be compulsory in all common indoor spaces.
Reuters
Calls to the Poisons Information Centre about alcohol-based hand sanitiser poisoning have more than doubled compared to the same time last year as experts urge parents to keep it out of reach of young children.
The dangers of ingesting the now readily-available product have been highlighted in the case of accidental poisoning in a six-year-old child who needed intensive care treatment.
Genevieve Adamo, a senior specialist in poisons information at the NSW Poisons Information Centre, said there has been a marked increase in calls about alcohol-based hand sanitiser poisonings, with more than 1000 calls from February to the end of July this year.
"This is 2.5 times the number of calls received for the same period in 2019," she said.
The majority of calls were for accidental poisoning, Ms Adamo said, and three-quarters of all the alcohol-based hand sanitiser calls were about cases in children under the age of five who had ingested some sanitiser.
Tensions have erupted over the ability of the US Postal Service to cope with this year's presidential election, after it failed to guarantee that all ballots cast by mail would arrive in time to be counted.
The Postal Service issued the warning in detailed letters to states across the US, heightening concerns about voting limitations in what has already become a volatile contest between President Donald Trump and Democratic presumptive nominee Joe Biden.
In the latest sign of angst, protesters on Saturday morning (local time) descended on the home of Postmaster General Louis DeJoy, a GOP donor and Trump ally, accusing him of trying to "dismantle" the organisation to assist the President.
"DeJoy has fired or reassigned much of the existing USPS leadership and ordered the removal of mail sorting machines that are fundamental to the functioning of the postal service," the group, Shut Down DC, said in a statement.
"Meanwhile, mail delivery is slowing down under other decisions made by DeJoy, such as eliminating overtime for postal workers."
The protest comes as Trump continues to rail against the idea of mail-in voting – a system that has been in place for decades but has become increasingly important this year so that states can carry out elections safely amid the coronavirus crisis.
Federal Health Minister Greg Hunt says he is "genuinely optimistic" a COVID-19 vaccine will be on the international market by 2021 and the federal government is close to reaching a deal to produce it in Australia.
Mr Hunt said he been cautious in the past that attempts to create a vaccine would be successful but he said the latest medical advice was that there had been great progress.
"The world is moving closer to a vaccine, and it's unlikely that it will just be one, it's likely that it will be many," Mr Hunt told Sky News Australia.
"There are lead Australian candidates, as well as international candidates, so we're making significant progress.
The leading candidate for an Australian deal to access the vaccine has been developed by AstraZeneca in conjunction with Oxford University.
Mr Hunt said the government was "well placed" to gain access, with confirmation expected in the coming days.
"We are working with the most vaccines around Australia and around the world. It's good news for Australia but also for the world. This is a genuine ray of hope and we are advanced, we are prepared and we are in a position to produce."