Nishikori added that he had "very little symptoms" and would go into self-isolation.
A number of players have withdrawn from this year's US Open over fears of contracting the coronavirus that has infected more than 5.3 million people in the United States and killed nearly 170,000.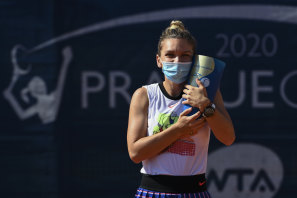 Defending champion Rafael Nadal and women's world No.1 Ash Barty are among those who have refused to travel, while reigning women's champion Bianca Andreescu pulled out, saying the pandemic had compromised her ability to reach her highest level of form.
World No.2 Simona Halep, however, will announce on Monday whether she will play.
Loading
Speaking after her victory over Elise Mertens in the Prague Open final, the 28-year-old Romanian said "she just needed her time" to make a decision.
Halep was playing her first event since coronavirus pandemic shut down tennis in March, picking up where she left off six months ago when she won the title in Dubai.
After some rusty performances during the week, Halep found her groove to win 6-2, 7-5 and said she was encouraged by her form and the health protocols put in place in Prague.
"We felt really safe here and all the rules were respected," she said. "It's a bit stressful but the fact that everyone was good these 10 days means everything was done well."
Back in the US, American Jennifer Brady clinched her first career WTA title on Sunday, defeating Switzerland's Jil Teichmann 6-3, 6-4 in Kentucky's Top Seed Open final.
Reuters