Loading
Warragamba Dam on Sunday reached 99.8 per cent capacity.
The department also criticised the draft EIS for stating the 20 per cent of the project area not burnt in the fires could provide refuge areas for surviving population.
Not only should the government map the fire extent "as a minimum", it should also conduct more detailed studies "prior to any approval of the project", it said.
A spokeswoman for Minister for Western Sydney Stuart Ayres said "feedback from the state and commonwealth Departments on the draft EIS is an important component in developing the final document for public exhibition", declining to address specific issues raised in the leaked document.
David Lindenmayer, a prominent ecologist from the Australia National University, said people should "give bouquets to the federal government" for highlighting the weaknesses of the NSW plan.
"For a species like the greater glider, it's not going to evolve fins and a set of gills as the water levels start to rise," Professor Lindenmayer said, adding that as the bushfires had created "a major disturbance", planners need to be concerned about what an additional disturbance would do.
Leaks related to the draft EIS show a range of government agencies including the NSW National Parks and Wildlife Service have raised issues about the proposal to raise the wall at Sydney's main dam by as much as 17 metres.
The state government estimates the project will cost about $700 million but that excludes payments for so-called offsets to compensate for the losses caused by temporary inundations of at least 5000 hectares of the Blue Mountains World Heritage Area.
Loading
The federal department also took aim at the calculation proposed for those offsets, saying the NSW government needs "an explanation and justification for why the full commitment of offsets is not proposed", according to the document.
It said the uncertainly about the fate of as many as 55 federally listed plant and animal species at risk was "unacceptable" as it was based on the adequacy of detailed baseline surveys. "The EIS has stated that surveys were not possible for a large part of the project area due to limited access," the document notes.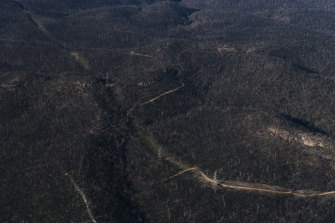 Bob Debus, a former NSW environment minister under Bob Carr's Labor government, said "an EIS with these kinds of critical flaws can't be seen as a document prepared in good faith".
The Colong Foundation for Wilderness support the photography used in this article.
Get our Morning & Evening Edition newsletters
Peter Hannam writes on environment issues for The Sydney Morning Herald and The Age.
Most Viewed in Environment
Loading