Earlier in the blog we posted a poll asking if you thought Victorian Premier Daniel Andrews should take a break as news emerged he would be conducting his 50th straight daily coronavirus briefing today.
Around 10,000 of you responded, and the vast majority thought Mr Andrews should have some respite, with 85 per cent saying he should take a day off.
The Victorian Premier has said he will not stop because the virus does not stop, but a picture posted on his social media accounts last night shows he at least got some time at home to celebrate his son Noah's 18th birthday.
Hearings for the inquiry into Victoria's hotel quarantine program are underway. We'll hear evidence from infectious diseases expert Professor Lindsay Grayson then Professor Ben Howden, head of the Doherty Institute's genomic sequencing unit.
It's expected Professor Howden will discuss the genomic sequencing that showed most, if not all, of Victoria's second wave of coronavirus can be linked to hotels staff and security guards spreading COVID-19 from quarantine hotels into the community.
He and Professor Grayson will also discuss the nature of COVID-19, infection control, epidemiology and contact tracing.The inquiry is led by Jennifer Coate, a retired County Court judge.
Today's proceedings have started with opening comments from Tony Neal QC, the counsel assisting Justice Coate. He said the next two days will shed light on how much of Victoria's second wave can indeed be linked back to hotel quarantine.
"Today and tomorrow evidence will be called before you regarding the nature of COVID-19 as an illness and what genomic and epidemiological evidence can tell us about the extent to which the infectious now spreading in Victoria are indeed traceable back to international travellers," Mr Neal said.
At the opening hearing of the inquiry on July 20, Mr Neal quoted Chief Health Officer Brett Sutton in saying that "it might be that every positive case in Victoria could be traced to hotel quarantine".
All of today's hearings are being conducted remotely. The lawyers representing government departments, hotels and security companies were asked to unmute their microphones as they introduced themselves.
Businesses that have underpaid staff superannuation in the past 20 years have three more weeks to fess up to the tax office or face stiff penalties.
But Assistant Minister for Superannuation Jane Hume says any business that is struggling due to the financial impact will be given more time.
The Australian Tax Office's super guarantee amnesty expires on September 7. Businesses that did not pay staff all the super they are owed since 1992 must join the amnesty by this date or face "very severe" penalties, Ms Hume said.
But she also said the tax office would be flexible with any business facing tough times in the pandemic.
"This amnesty is a one-off chance for those people that may have underpaid superannuation to any of the employees since 1992 … to come forward [and] make good, plus 10 per cent, to those employees and wipe the slate clean without any penalties," Ms Hume said on ABC Radio National on Monday.
Any business audited after September 7 that is found to have underpaid employees super will be hit with penalties, the Victorian Liberal senator said.
"So we would encourage any businesses that may have underpaid any time in the last 20 years to come forward right now," she said. "If they can't pay it at the moment because times are tough, the ATO can help them and put them on a payment plan."
According to the ATO, employers who do not come forward face potential penalties of up to 200 per cent of the previously unpaid super.
Online retailer Kogan has heralded a revolution in Australia's retail sector thanks to the coronavirus pandemic, with the e-commerce player reporting a huge jump in sales and earnings for the 2020 financial year.
Kogan, which operates an online-only retail platform, increased its revenue by 13.5 per cent to $497.9 million compared to the prior year. Gross sales, which includes all sales made through the company's third-party platforms, rose nearly 40 per cent to $768.9 million.
Net profit after tax rose 55.9 per cent to $26.8 million. Total active customers at the e-tailer has now topped 2.18 million, up 35.7 per cent on 2019.
Kogan's strong results were not unexpected, as the company has been regularly updating investors on its monthly sales figures throughout the pandemic, which have surged thanks to a work-from-home spending boom.
Victoria's hotel quarantine inquiry will start up again at 10am today, with a number of medical experts slated to give evidence on the impact of infection control breaches on the state's second wave.
You can watch the inquiry live here. The Age's Michael Fowler will also be providing written updates on the inquiry's progress.
Blog regular Craig Butt has updated his graphs of daily coronavirus cases and deaths in Victoria.
The state has recorded 282 new cases in the latest 24-hour reporting period and 25 deaths, meaning today is set to be Australia's deadliest day of the pandemic.
Twenty-two elderly residents and a dozen staff have tested positive to coronavirus in the latest outbreak to spread through an aged care home in Victoria.
The Japara Elanora Aged Care Home in Brighton remains in lock-down as Victoria records its deadliest day with 25 lives lost to coronavirus in the last 24 hours.
A Japara spokeswoman said on Monday morning a resident was first diagnosed with the virus on August 2 and the nursing home was immediately locked down.
"Since that time a further 21 residents and 12 staff have also tested positive for COVID-19," a Japara spokeswoman said.
"We continue to work closely with the various health authorities, the aged care regulator and our infection control expert in the management of this outbreak.
"In addition to our stringent health screening, regular monitoring of residents and staff hygiene and infection control processes, we have implemented cohorted areas in the home to help minimise cross infection and the spread of the virus."
The spokeswoman said residents and families were being given regular updates.
There have so far been more than 180 deaths associated with aged care outbreaks, Premier Daniel Andrews said on Saturday, while more than 120 aged care facilities have battled infections among residents and staff.
New Zealand is expected to come out of the coronavirus recession with lower unemployment and a stronger economy than Australia despite its initial stage four lockdown, forecasts from the two countries' central banks show.
While Australia had predicted NZ would pay a heavy financial price for its original month-long restrictions that effectively shut the country, the forecasts suggest NZ's economy could be back to its pre-virus level up to 18 months faster than Australia.
The Reserve Bank of Australia is forecasting unemployment to reach 10 per cent by year's end and only fall to 7 per cent by late 2022. Thursday's jobs report from the Australian Bureau of Statistics showed unemployment at 7.5 per cent with a record 1 million people out of work.
The economy is not expected to return to its 2019 level until late 2021 or early 2022. This week, National Australia Bank's economics team pushed back the economic recovery until 2023, in part due to lockdowns to stop Victoria's coronavirus outbreak.
New Zealand is due to give an update on its coronavirus cases at 11am, after Prime Minister Jacinda Ardern announced the country's election would be delayed by four weeks earlier today in light of an uptick in cases.
At a vacant car park in downtown Houston, in the heart of one of America's worst coronavirus hotspots, a woman wearing a fluorescent yellow vest is patiently directs The Sydney Morning Herald and The Age's Farrah Tomazin to twirl a swabstick around her mouth to find signs of the virus.
Texas had just set a new record for the number of tests coming back positive. Many of its hospitals were overstretched. And a few weeks earlier, things had become so grim that one local county started ordering refrigerated trucks because its morgues were filling up.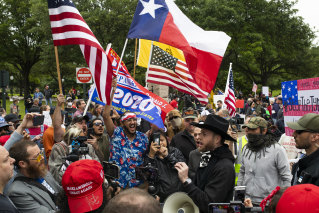 This newly opened site was now the largest testing centre in Houston, with capacity to conduct up to 2000 tests a day. Yet at this particular lunch hour last week, she was one of two people standing in line, and only spotted a dozen or so cars using the drive-through service while there.
Which begs the question: when it comes to the pandemic, do Texans care, or has politics and individual liberty allowed the state to just let it rip?