Mr Barilaro hailed the decision to review numbers as a "great win for our brumbies", coming "after a week of intense pressure".
Loading
However, Mr Kean later told the Herald that, while the government would hold the count annually instead of every four years, the change would not delay the trapping and removal of horses.
"We'll keep managing them out of the three sensitive areas," he said, referring to the Nungar, Cooleman and Kiandra plains that make up about 9 per cent of the park area.
"We'll do the count every year. It will tell us how many horses there are and we'll make it public," Mr Kean said.
Mr Kean also addressed a claim that skulls of several dead horses had been placed on sticks outside a National Parks and Wildlife Service depot within the park.
A photograph posted online by 2GB appears to show two horse skulls but also the skulls of a goat and possibly a kangaroo.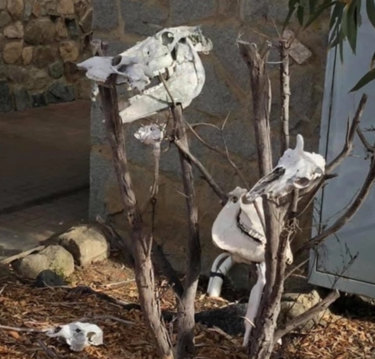 "There is no place for the harm or cruelty, or gloating about it, for any living being in the National Parks and Wildlife Service," Mr Kean said. "If any of the staff want to be involved in that, then they can get out."
The plan for more regular feral horse counts was welcomed by Reclaim Kosci, an environmental group.
"A science-based count that confirms numbers in Kosciuszko National Park while allowing horse removal is welcomed," Anthony Sharwood, a spokesman for the group, said.
Loading
"Let's continue with the current post-fires removal of horses, let's get the recount done, and let's then put in place a long-term management plan for the horses."
Dave Darlington, a former regional manager for the park service, said a full aerial count of the horses in the Australian Alps covering the high country of NSW, Victoria and the ACT cost about $200,000.
To conduct annual recounts would be "an absolute waste of money", Mr Darlington said.
On the other hand, the parks service already conducts annual surveys of the most sensitive areas where ecosystems are most exposed to trampling by hard-hoofed animals, and these reviews could continue at little additional cost, he said.
The 2019 survey estimated NSW had 19,000 horses, up from about 6000 in 2014.
"The impacts are getting much worse," Mr Darlington said. "You're seeing more and more horses in more and areas."
Get our Morning & Evening Edition newsletters
Peter Hannam writes on environment issues for The Sydney Morning Herald and The Age.
Most Viewed in Environment
Loading