Three residents of a Sunshine Coast aged care facility which partially closed on Monday after the group displayed "respiratory symptoms" have returned negative COVID-19 tests.
In a statement posted on its website on Tuesday morning, the operators of Immanuel Gardens at Buderim, Lutheran Services, said results for a fourth person were still outstanding.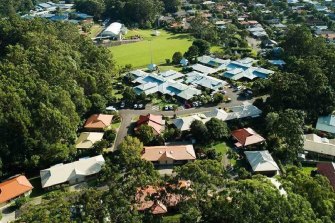 Part of the centre known as the "terrace" will remain closed while the result is pending as a "precaution in line with public health direction".
"We will remain in close contact with family members of the residents throughout this time," the statement said.
Queensland Chief Health Officer Dr Jeannette Young told reporters she suspected the fourth person would also test negative as they had not displayed any new symptoms beyond those of their "normal" illness.
"It's very, very good to see what the aged care facility did, that they went ahead and tested those four people," she said.
On Monday, a Lutheran Services spokeswoman said the residents had been isolated and would "remain under close monitoring and full care" until their test results came back.
NSW Health has told community sporting organisations that they can no longer mix with different regions, and must stop zone, regional or state championships or competitions from tomorrow.
They must also stop any activities that result in overnight stays and social activities such as award ceremonies, and avoid car pools. At local activities, spectators should be limited to one parent only.
The new rules begin on Wednesday, and are expected to last six weeks, the letter to community organisations from Chief Medical Officer Kerry Chant said.
Inter-regional activities included those that brought participants from organisations in different regions of Sydney, from a rural area into a metro area, and movement between different rural areas.
The Herald has sought clarification from NSW Health about how the department defines regions within the Sydney area.
Laws to force the testing of people for COVID-19 may be considered as a recommendation in Victoria's hotel inquiry.
The second day of this week's witness hearings in Victoria's hotel quarantine inquiry has begun.
Counsel assisting the inquiry, Tony Neal QC, has opened Tuesday's session talking about how there is no mechanism under the law to force people to be tested.
He said while force can be used by a police officer to detain a person subject to a testing regime, the administration of the test itself cannot be done by force.
For those in hotel quarantine, Mr Neal said evidence will be called in the inquiry that says the testing of returned travellers in quarantine could only be done on a voluntarily basis.
From July 1, those that refused to be tested could be detained for longer, but still, they could not be forced to be tested.
"Testing was never made mandatory," Mr Neal said.
He said it may be an aspect the inquiry could turn to in its final report.
After Mr Neal's opening, the inquiry will hear from Department of Health and Human Services epidemiologist Dr Charles Alpren.
Some good news today for expectant parents in Melbourne, who were dealt another pandemic-related blow recently with a shower and water birth ban impacting Victorian hospitals.
It now seems that the restriction on showering during labour has been overturned.
The Age and Sydney Morning Herald have been told that all public hospitals in Melbourne were contacted yesterday "to clarify" the health department's recommendation, which was only intended to impact water births.
Water births are still temporarily suspended, with the health department advising that they poses an "unacceptable risk" for midwives and other healthcare workers while coronavirus is spreading through the community because personal protective gear is ineffective when wet.
A health department spokeswoman said in normal circumstances the use of water in labour was absolutely supported, and that the ban would be overturned as soon as it was safe to do so.
"We understand this may be distressing for women, but we need to protect the healthcare workers who are our last line of defence," she said.
Amanda Laver, who is expecting her first child next month, was told on Thursday that she would not even be able to use a shower while labouring at Frankston Hospital, in Melbourne's south.
She said the news the shower ban had been overturned was a great relief.
"Being given access to showers again not only seems like a basic human right, but a huge weight off psychologically to know I've been given access to the best natural pain relief that is available."
The ban on water births has created a rift between the peak groups representing the nation's obstetricians and midwives. The College of Obstetricians supports the ban while the Australian College of Midwives, representing the profession more likely to be involved in water births, have rallied against it, saying it is not supported by evidence.
It has been a difficult time for those parents expecting babies in Victoria, as only the partner is allowed to visit the hospital for two hours a day after the baby is born, and many grandparents and other relatives are unable to see the newborn once they arrive home due to lockdown restrictions.
After the decision to cancel all formals in NSW state schools, we are looking to speak to students from across the country about missing out on the rite of passage.
Did you already have your dress? Is a Zoom replacement being organised? If you'd like to share your story, email melissa.singer@smh.com.au today.
The graph embedded below tells the story of Victoria's COVID-19 disaster. It plots the genomic sequencing done by the Doherty Institute, on behalf of Victoria's Department of Health and Human Services, to trace the origin of each cluster or outbreak in the State.
It explains why, since late May, nearly every COVID case can be traced back to a handful of infections at two quarantine hotels in Melbourne. At a glance it looks confusing, but bear with me.
To understand the graph, go first to the axis at the bottom. This is a timeline from late February, when Victoria's first wave of infections began in earnest, through to early August.
Now note the coloured dots. Each dot represents an infection. Orange dots are returned travellers who brought the virus home with them. The black dots are people who picked up the virus in Victoria.
The cases in the bottom half of the graph are all first wave infections. In heartbreaking evidence to the Coate inquiry, Doherty Institute genomics expert Professor Ben Howden said that, as of late May, nearly all these cases had petered out.
We were almost through this thing.If you keep scrolling up, you come to a cluster of cases Labelled Transmission 1.
This is the Cedar Meats cluster, all acquired locally, which was spread by abattoir workers in Melbourne's west. As you can see, it was contained by late May.
Now go to Transmission 2. This is where the problems started. This is the start of Victoria's second wave.
This a cluster which began in the Rydes Hotel on Swanston, the first quarantine hotel to report an outbreak of COVID-19 among its staff and security guards.
See those four orange dots in mid to late May? That is the virus breaking out of quarantine.
The mass of black dots that follow are what happened once this virus started running through the community in our north and western suburbs.
Transmission 3 is the Stamford Plaza Hotel cluster.
It begins with a single orange dot. If you look above Transmission 3 you see a cluster marked 45A. This is a separate cluster but also began at the Stamford Hotel.
Dr Charles Alpren, a DHHS epidemiologist and contract tracer, is expected to explain all this today in his evidence before the Coate inquiry.
But as the inquiry continues and hears evidence about everything that went wrong in our hotel quarantine program, remember this graph.
Public housing tenants who were stuck in their homes in a two-week "hard lockdown" have told the Victorian Ombudsman they were not properly communicated with from the outset.
Ombudsman Deborah Glass last month launched an investigation after 480 tenants were confined to their homes at 33 Alfred Street in North Melbourne. Police were deployed to stop residents leaving their homes for any reason.
The investigation has now received 89 complaints and 55 submissions from affected residents, volunteers, community advocates and organisations.
"We are hearing very strong concerns about the lack of access people had to information, as well as to fresh air, exercise and medical supplies," Ms Glass said on Tuesday.
"Even with Melbourne in stage four lockdown, generally most people still have access to essential supplies, fresh air and exercise."
Ms Glass said people felt ongoing distress about the severe lockdown.
"It is important that we document and understand what happened and learn lessons from what occurred, so that in the future the human rights of public housing tenants are recognised as much as everyone else's."
At eight other housing towers in North Melbourne and Flemington, thousands of residents were not allowed to leave home for five days while tenants were tested for COVID-19. No cases were found at two of the towers on Pampas and Melrose streets.
The Ombudsman is using a human rights framework to look at how and why the lockdown happened, the consequences for Alfred Street residents, and how the lockdown was managed.
The Department of Health and Human Services (DHHS) is providing records to investigators, who are also meeting with senior DHHS officials weekly.
The Victorian Equal Opportunity and Human Rights Commission has seconded a senior officer to help the investigation.
Submissions are open until next Friday.
People can make submissions by emailing investigation@ombudsman.vic.gov.au, calling 03 9613 6222 (10am to 4pm on weekdays) or calling via an interpreter on 131 450.
The Victorian inquiry into hotel quarantine is starting up again today at 10am. You can watch the action live below, and catch up on yesterday's events here. Tammy Mills will be bringing you rolling updates in the blog.
Victoria's daily coronavirus numbers aren't coming down fast enough for at least one Melbourne epidemiologist.
Professorial fellow of Epidemiology at the University of Melbourne, Professor Tony Blakely, told radio station 3AW this morning that he was surprised the daily new case numbers hadn't dropped much further considering the implementation of stage four lockdown in Melbourne.
"Two weeks to a week ago, it came down quite quickly [and] I was very pleased with that. [But] In the last week they've come down not so fast and I was surprised by that because I thought they would really truck on down in the last week because it was 10 days or so after the lockdown was put in place," he said.
"So we're going down, it's not as fast as I would like which concerns me a little bit.
"We'll wait and see but if these numbers don't start going down more rapidly in percentage terms each day the chance of us getting less than say 50 cases per day on average by the end of this six week lockdown is looking tough."
Professor Blakely said it was too early to say if the rate of the virus spread meant stage four might have to be extended.
He said Victoria's Chief Health Officer Brett Sutton had indicated the goal was suppression, not elimination, in driving down the second wave – and that based on that the state would need to get below 50 cases per day.
"If we go for suppression, if we look at somewhere like South Korea as an example they've managed somewhere around the 40 mark per day and they manage to keep it there most of the time although they are having a bit of an outbreak at the moment," he said.
"So we would want to be probably less than 50 per day before we opened up again."
Professor Blakely also said widespread mask wearing was a no-brainer until a vaccine is available.
"It doesn't have any economic costs on industries. It could mean the difference between pubs having 20 people versus 50 people, or the difference between workplaces being closed or being open for three days a week."
Queensland has detected no new cases of COVID-19 again on Tuesday.
Speaking at a new stockpile warehouse storing 120 million pieces of personal protective equipment, Premier Annastacia Palaszczuk said seven COVID-19 cases remained active across the state.
"This is excellent news, we always love these zero days," she said.
"This storage site will feed into our distribution centre, where collectively we will have in excess of 100 days of supply of key PPE items including more than 900 days of surgical masks, more than 200 days of surgical gowns and close to 300 days of gloves."