But tennis officials have already been notified of one COVID-19 positive test after conducting about 1400 tests this week.
The positive test came from a "tier one" tennis representative – a group made up of players, a limited number of player guests, ATP and WTA staff, tournament referees, grand slam supervisors and other senior tennis officials. But the USTA confirmed the positive test did not come from a player.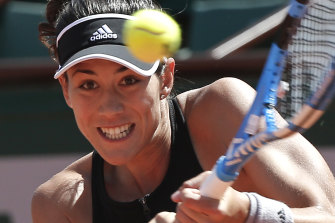 "I will tell you in our planning and contingency planning, we expected this to happen. As we mentioned, we conducted 1400 tests," said USTA chief executive Mike Dowse.
"Mathematically we expected to have a positive if not more than one. So we did anticipate this and we have put very specific protocol in place to prevent this from spreading broadly."
Loading
Should Muguruza, who has pulled out of the Western and Southern Open at Flushing Meadows, also miss the US Open, the major will be without another leading player after world No.2 Simona Halep joined world No.1 Ashleigh Barty, defending champion Bianca Andreescu, Elina Svitolina, Kiki Bertens and Belinda Bencic in skipping the New York events.
Barty has chosen not to travel to the US and remains undecided about heading to Europe for a French Open defence, while fellow Australian Nick Kyrgios and defending men's champion Rafael Nadal are also among the absentees.
Dowse said the USTA respected the individual decisions of players not to travel, and talked up the strength of the men's and women's fields.
"As far as our field, in context of the times and how different the world is, I couldn't be happier. It's exceeded our expectations," Dowse said.
Loading
"On the women's side we have 10 former grand slam champions and seven former No.1s, 81 of the top 100 players. On the men's side we have seven of the top-10 players in the world playing, eight former grand slam finalists, 90 of the top 100 men playing."
Australian Open finalist Muguruza, a former Wimbledon and French Open champion, said she hoped she could still recover in time to play the US Open.
"I really want to get back on tour, and do it in New York. I know that the WTA and USTA are making a great effort to make it possible for us to play and I will work hard so that I can be there in a few days," Muguruza said on Twitter.
Scott Spits is a sports reporter for The Age