Loading
In recent months, though, those flows have largely ceased as irrigators have filled their dams and the rains have eased-off, creating the stagnant conditions favouring the growth of algae.
"The CEWO is working closely with state agencies, researchers and local community members in the Menindee-Lower Darling region to plan a possible spring flow to assist in the recovery of fish populations that were impacted by the major fish deaths that occurred around 18 months ago," a spokeswoman said.
The threat in the southern basin, particularly the lower Murray and lower Murrumbidgee River, is a so-called blackwater event. These happen when flooding occurs after a long dry spell and the excessive build-up of leaf litter and other organic material during the drought ends up being washed into the rivers.
Those large quantities of organic material increase bacterial growth, resulting in the de-oxygenation of the water and large-scale loss of fish and other aquatic species. Large blackwater fish-kills occurred in 2011-12 and 2016.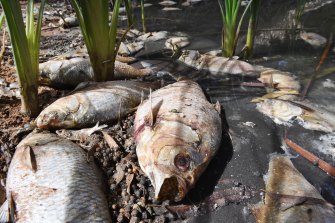 Blackwater events "can especially be a problem in highly regulated river systems where minor floods are captured in dams and organic matter is allowed to build up on the flood plain", the CEWO spokeswoman said.
The Murray-Darling Basin Authority also said it was "concerned about hypoxic blackwater events in the southern basin, and the risk is likely to increase if we get more rain and organic matter wash off into rivers", a spokesperson said.
Simon Mitrovic, an algae expert at Sydney's University of Technology, said it is likely there will be blue-green algae outbreaks that can lead to large fish-kills if the low flows in the Darling continue into the summer.
If flows are stronger, it is harder for the algae to swim to the surface, Professor Mitrovic said. The difficulty for the northern basin is that there is less water stored in dams than can be released.
Loading
For blackwater problems, though, well-timed releases of environmental water can help "shandy" the river, "making it less likely to lead to fish-kills", he said.
Graeme McCrabb of Menindee has campaigned against excessive extraction upstream in the Darling-Barwon region since millions of fish died in early 2019. He said algae is appearing in the Menindee Lakes and the Darling river near Menindee.
"The river just needs more water," he said. "We were promised the world, and we were given Tassie or not even," he said.
The Herald sought comment from NSW Water Minister Melinda Pavey.
Get our Morning & Evening Edition newsletters
Peter Hannam writes on environment issues for The Sydney Morning Herald and The Age.
Most Viewed in Environment
Loading