"To avoid even the appearance of any impact on election mail, I am suspending these initiatives until after the election is concluded."
The decision comes after a number of US states had indicated that they would file lawsuits this week against the USPS and DeJoy in a bid to reverse the changes.
It also comes after DeJoy, an ally of President Donald Trump and a major GOP donor, agreed to appear before a committee hearing in Congress on Friday, where he was due to be quizzed on the controversial policy changes.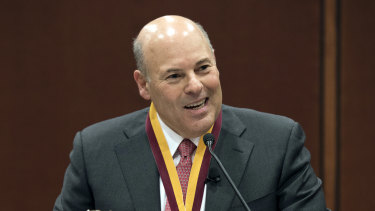 Democrats have accused Trump of trying to sabotage the election by casting doubt over the validity of mail-in ballots, which he has repeatedly said, without evidence, could lead to widespread voter fraud.
Loading
Tensions ignited further when the USPS failed to guarantee that all ballots cast by mail would arrive in time to be counted, adding to fears that countless Americans would be disenfranchised while trying to exercise their democratic right to vote.
In response, protesters descended on DeJoy's home last Saturday and accused him of trying to "dismantle" the organisation to assist the President.
Last night, the issue of voting rights took front and centre of the Democratic National Convention, with former First Lady Michelle Obama accusing Republicans of "doing everything they can to stop us from voting."
"We've got to vote early, in person if we can. We've got to request our mail-in ballots right now, tonight, and send them back immediately and follow-up to make sure they're received. And then, make sure our friends and families do the same," she said.
DeJoy has been a controversial figure since taking over the Postal Service in June, where he quickly made a series of organisation cutbacks that he claimed were necessary due to the USPS's dire financial position.