Crown Resorts' full-year net profit has tumbled 80 per cent to $79.5 million after the coronavirus pandemic forced the James Packer-backed casino giant to shut its gaming floors.
The ASX-listed group on Wednesday said revenue at its casinos and hotels in Melbourne and Perth fell to $2.2 billion for the 12 months to June 30, down 25 per cent on the prior year.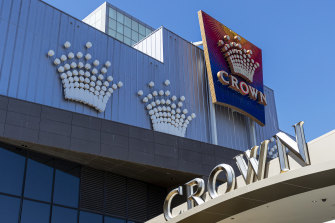 "2020 has been an extremely challenging year," Crown chief executive Ken Barton said in a statement.
Mr Barton said Crown began to see a drop-off in visitors in January as travel restrictions came into effect and amid community uncertainty about the health crisis.
Crown saw revenue from its main gaming floors fall by 27 per cent to $1.2 billion, while total turnover on its high-roller tables – which rely heavily on international VIP players – slid 46 per cent to $20 billion.
Figures released by the Victorian government late yesterday give the most up to date snapshot available on the crisis in aged care across the state.
There are currently 2024 active cases related to aged care facilities and tragically 230 deaths have resulted from these settings.
As of Tuesday, there were 120 different facilities with active cases, but staff/resident data breakdowns are only available for the 10 facilities with the highest number of cumulative cases, which you can see plotted on this graphic. (If you hover over each of the facilities you can see a breakdown of how many staff and residents have been infected in total.)
While the individual breakdowns for every single facility are not available, we have been provided a summary of the running total of how many residents, workers and close contacts have contracted the virus in facilities where there are still active cases, which shows nearly as many staff as residents have become ill.
The WA government has rebuffed calls for an independent review of the coronavirus risks posed by the 7000 people who have entered the state with quarantine exemptions since the "hard border" restrictions were put in place in early April.
A heated debate in Parliament on Tuesday afternoon erupted in the wake of a number of high-profile cases of quarantine breaches, including two women who allegedly escaped from a hotel after arriving in Perth without an exemption.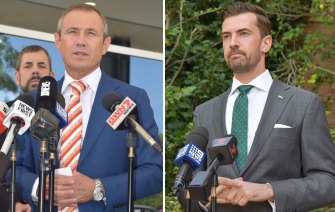 WA Liberal health spokesman Zak Kirkup said 52 people a day had come into the state and were given a pass from 14-day self-isolation restrictions. He called on the government to support an independent risk assessment of the 'hard border' quarantine arrangements.
But Health Minister Roger Cook said assessing the risk of an outbreak was already part of the job of health officials and flayed the opposition over its changing position on border restrictions.
We would like to hear from readers who are being affected by border closures, particularly on the NSW-Queensland and NSW-Victoria borders. Please use this form to share your story and leave your contact details if you are happy for a reporter to get in touch.
The Prime Minister has again this morning disputed Victorian Premier Daniel Andrews version of events in the standing up of hotel quarantine in the state.
It comes after Lieutenant-General John Frewen, the head of the Defence COVID-19 Taskforce, told a Senate inquiry yesterday an ADF offer to make troops available to strengthen Victoria's hotel quarantine scheme was not taken up by the Andrews government.
It contradicted what Mr Andrews said last week when he told a Victorian parliamentary hearing that "ADF support was not on offer" for hotel quarantine.
Mr Andrews told the hearing that it was "fundamentally incorrect to assert that there were hundreds of ADF staff on offer and somehow, someone said no".
This morning Mr Morrison said the offer was announced at a press conference, and that there was a discussion at national cabinet – which included Mr Andrews – about the ADF being available for hotel quarantine.
"Certainly as Lieutenant-General John Frewen made very clear yesterday, the offer was there and the Victorian government made their own decisions," Mr Morrison said.
The Prime Minister did not answer a question about whether he had spoken to Premier Andrews personally to patch over the growing tensions between the state and federal government.
"I just feel that what we need to do is each day – I mean I'm not interested in having an argument about what was said two months ago, I'm interested in what we need to do today and I'm interested in the resources we need to get there and the support that we need to provide," he said.
"I've got to deal with today and tomorrow … and the Premier's in the same boat, so we've just got to get on with it."
Prime Minister Scott Morrison wants a vaccine for COVID-19 to be "as mandatory as possible" for Australians, he has revealed while spruiking the federal government's new coronavirus vaccine deal.
While the Prime Minister was guarded in his language and said the government had no set policy yet, he told Melbourne radio station 3AW he "would expect" only people with clear medical reasons to be exempt from receiving the vaccine.
"Certainly we've got to get about 95 per cent [coverage] and so we'd be applying that as well [as] taking medical advice … but that's what I would be expecting," he said.
"You would be expect it to be mandatory?" host Neil Mitchell then asked.
"I would expect it to be as mandatory as you can possibly make it. There are always exemptions for any vaccine on medical grounds, but that should be the only basis," the Prime Minister replied.
"I mean we're talking about a pandemic that has destroyed the global economy and taken the lives of hundreds of thousands all around the world and over 400 Australians here so we need the most extensive and comprehensive response to this to get Australia back to normal."
Mr Morrison said he was used to dealing with campaigns by anti-vaccination groups.
"I'm used to that, I was the minister who established 'no jab no play', so my view on this is pretty clear."
Higher costs incurred for in-store cleaning and supporting struggling franchisees during the coronavirus pandemic have led pizza giant Domino's to report a weaker-than-expected full-year result.
The $6.6 billion fast-food chain reported a 7.3 per cent increase in earnings before interest, tax, depreciation and amortisation to $303 million for the year to June 28, alongside a 12.8 per cent increase in total network sales to $3.27 billion. Underlying revenue, which excludes franchise network sales, grew 32.7 per cent to $1.9 billion. Same-store sales growth across the network was 5.8 per cent.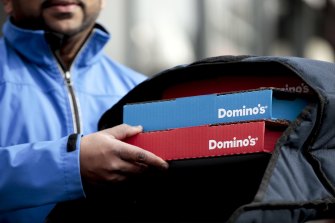 However, these figures were short of analyst forecasts, which had predicted a bumper result as more consumers ordered home-delivery during the coronavirus lockdown.
In its full-year report to investors, the company said it had seen a strong rise in sales thanks to COVID-19, with online trade across the network up 21.4 per cent to $2.36 billion. Net profit grew 3.3 per cent to $145.8 million.
A person has tested positive for COVID-19 in hotel quarantine taking Queensland's total coronavirus cases to 1092.
The man, aged in his 40s, had recently returned from Papua New Guinea and tested positive on his seventh day of mandatory quarantine.
There are no concerns the man has infected anyone else, Premier Annastacia Palaszczuk said.
"We have absolutely no concerns about that case," she said.
Chief Health Officer Jeannette Young said health officials were working closely with the Australian Border Force to protect Queensland's northern border with PNG as the country experiences a rise in cases.
The man was the only person to test positive for the virus in Queensland after almost 10,000 people were tested on Tuesday. Six cases remain active in Queensland.