The last time Victoria recorded a daily new case tally close today's number was on July 18 when there were 217 new cases.
On Tuesday, the state's Chief Health Officer Brett Sutton said he hoped to see new case numbers drop to the 100s next week.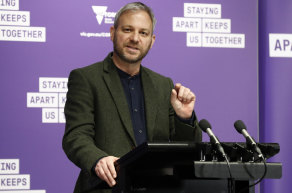 "We shouldn't hang everything on a single day's result but overall the trend is good," he said.
However, Premier Daniel Andrews expressed concern at a substantial drop in the number of people coming forward to get tested since the introduction of stage four restrictions in Melbourne, warning the lockdown may not be eased if coronavirus testing rates continue to decline.
In the seven days to Monday, pathology labs processed 154,432 tests – a drop of almost 30,000, or 17 per cent, compared with the previous seven-day period.
Loading
"It seems logical that there would be less testing [with less community movement] but not this much less," he said.
Regular flu numbers are now very low, due to the restrictions, so people who display cold or flu symptoms are most likely to have coronavirus, Professor Sutton explained.
"There are probably only 10 cases of flu weekly in Victoria, and obviously we've got hundreds and hundreds of cases of coronavirus," he said.