We have got the technical issue sorted and you can watch today's hotel quarantine inquiry hearings live, below.
For those interested, NSW Premier Gladys Berejiklian is due to hold a press conference at 11am, which you can watch live below:
Otherwise, stay with us for today's riveting hearing at hotel quarantine inquiry.
Jen said it "was very obvious to me" that security guards had not been trained how to use personal protective equipment.
"I saw a lot of mostly security guards for example constantly wearing the same gloves, going to make themselves a coffee with gloves on, using their phones, things like that," Jen said.
"They were always wearing the same [face masks], wearing them [incorrectly] so the nose was hanging out or that it was underneath their chin."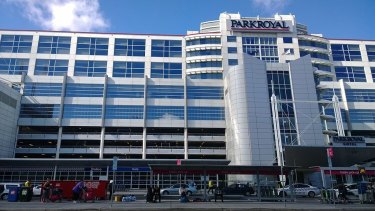 She said she also observed PPE such as masks not being disposed of correctly.
"You'd pop to the bathroom and you'd see a mask in the waste bin and things like that," she said.
In high-risk settings such as quarantine hotels, PPE like masks must be treated as if it is infected with COVID-19 and therefore disposed of in clinical waste bins, Jen said.
She said after observing security guards using one set of gloves to make coffees, use their phones and move around the hotel, she raised the alarm with a Victorian Department of Health and Human Services worker but it was not acted upon.
"I suggested it would be pretty simple for a nurse to offer some training to security or whoever required it, we just needed security to arrange a system where we could make sure everyone had been adequately trained," said Jen, whose surname is being withheld today.
"Or I suggested the Department of Health training that I had done online seemed pretty adequate … but I felt like it was never acted on. It was sort of just like 'yeah, sure'."
Jen worked the majority of her shifts at the Park Royal Hotel near Melbourne Airport.
She said she received no formal training or documentation from the nursing agency that gave her the job or the Victorian Health Department.
"[I received] nothing formally from YNA [nursing agency], it was another nurse who had worked there … and they showed me how the process was run," she said.
Jen said the Park Royal had between 20 and 300 guests. Three levels were used for quarantine and one remained open to the public.
She said there was no isolated entry to the hotel for the public.
"They would use the same lifts that the quarantine guests would come through," she said.
She said duties for the nurses included calling quarantined guests to check on their welfare and if they had coronavirus symptoms. Jen added that she believed there was adequate personal protective equipment provided to nurses.
Jen, the nurse giving evidence to Victoria's hotel quarantine inquiry, joined the hotels program via nursing agency YNA after losing casual work at a public hospital in Melbourne.
"[The quarantine hotel program] was essentially the only place that had work going for casual nurses at that time," said Jen, whose last name is being withheld today.
She completed a series of induction modules, including one from the Australian Department of Health on COVID-19 infection control.
This was the same training module that was shown in the inquiry on Monday, which infectious diseases expert Professor Lindsay Grayson labelled confusing and unhelpful for healthcare workers because it appeared to be aimed at the general public.
Jen confirmed she completed the module, which said "wearing a facemask in public won't help to protect you from infection".
Victorian police have doled out 168 fines over the past 24 hours.
Forty-eight people were caught breaching Melbourne's 8pm curfew, 24 were fined for refusing to wear a face covering and 12 people were fined at vehicle checkpoints.
Police handed out fines to the following people:
A male found driving in a car park during curfew in Knoxfield. "He stated he had driven from Mount Waverley to take his uncle to purchase cigarettes and refill a gas bottle," a police spokeswoman said;
A woman walking in Hobsons Bay during curfew who said she had just visited a friend's house and didn't think it was that serious;
Three males and a female in a car in Point Cook. They live at different addresses and did not have a valid reason to be out;
A man at Glen Huntly Railway Station who was not wearing a face covering. After initially refusing to provide his details, he provided his name and address and he was found to be more than 15 kilometres from his address without a valid reason;
Two parents with their children visiting Lysterfield Lake Park who told police they had travelled from Keysborough to go for a walk. "When speaking to police, it was clear they were deliberately breaching the directions because they didn't think the virus was that serious," the spokeswoman said.
It was revealed yesterday that fewer than 50 people have been fined for breaching self-isolation rules despite the state government using the purportedly high number of rule-breakers to partly justify heftier infringements.
A Melbourne nurse, who will be referred to only as Jen, is the first witness to give evidence at the hotel quarantine inquiry today.
Jen will detail her experience working in the hotels.
Ben Ihle, counsel assisting the inquiry, began the third day of hearings with a recap of what we've heard so far this week.
The main takeaway is that at least 99 per cent of Victoria's second wave of coronavirus can be traced to three infection control breaches in two quarantine hotels.
Mr Ihle said witnesses today and tomorrow will focus on personal experiences from inside the hotel quarantine program.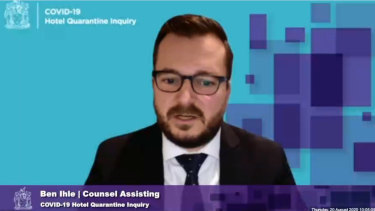 "They are the human stories – evidence of the experiences of people who themselves have lived through the hotel quarantine program," Mr Ihle said.
"Each of these witnesses had direct experience of what happened: in the lobbies, in the corridors and in the rooms of the hotels."
We'll hear from a man who stayed in hotel quarantine with his wife and two children at about 11am, another nurse at about midday, then three more returned travellers in the afternoon.
Tomorrow we'll hear from a couple who stayed at the Stamford Plaza hotel, where two separate breaches of infection control resulted in security guards and workers becoming infected and spreading COVID-19 in the community.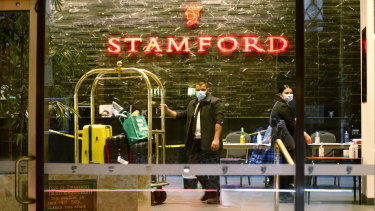 A former Department of Health and Human Services worker who resigned during the hotel quarantine program because he felt unsafe, and a security guard who worked in hotels, are also due to give evidence tomorrow.
Any Melburnian who has been fined for driving to a park within five kilometres of their homes for exercise will now have their fine reviewed, the Victoria Police Deputy Commissioner has revealed this morning.
It comes after the state's Chief Health Officer stepped in yesterday to overturn the COVID-19 restriction amid community backlash.
Deputy Commission Rick Nugent told Melbourne radio station 3AW that all police officers were sent advice last night informing them of the overturned rule, meaning from today no one in stage four lockdown areas will be fined for driving to a local park within their five-kilometre zone to exercise.
"We're going back and reviewing those fines," he said.
Mr Nugent said he wouldn't expect there would be a high number of fines, but could not give a specific number.
The policy backflip came about after police took to social media earlier this week to issue a reminder that they had been directed to issue $1652 fines for anyone driving to an area within five kilometres of their home for exercise.
Chief Health Officer Brett Sutton was asked about the restriction in a press conference yesterday where he indicated he would get the rule changed.
"I don't want anyone to feel unsafe getting to a place of exercise," he said.
The inquiry into Victoria's hotel quarantine program has now resumed.
Having heard evidence that 99 per cent of Victoria's second wave COVID-19 cases can be traced back to quarantine hotels, the inquiry into the program needs to figure out how that happened.
Two nurses who worked in the hotels will give evidence, as will four returned travellers who will be questioned about what they saw and how they were treated while they were in quarantine.
The transmission of the virus from returned travellers to hotel staff and security guards has led to thousands of cases, hundreds of deaths and the economic catastrophe of Melbourne's stage four lockdown.
A nurse is due to give evidence shortly after 10am.
At 11am, an unnamed returned traveller is scheduled to give evidence followed by another nurse at noon.
At 1pm, returned traveller Hugh de Kretser is due to front the inquiry, followed by returned travellers Kate Hyslop and Ricky Singh at 3.15pm.
We have got the technical issue sorted and you can watch today's hotel quarantine inquiry hearings live, below.
Queensland Premier Annastacia Palaszczuk is due to speak to the media at 10am. We were going to bring you WA Premier Mark McGowan's press conference live as well, but due to technical issues that live stream won't come through.