NSW Premier Gladys Berejiklian, Minister for Skills and Tertiary Education Geoff Lee, Chief Health Officer Kerry Chant and Police Assistant Commissioner Joe Cassar will provide an update on COVID-19 at 11am.
To year 12 students, their parents, friends and teachers: The Sydney Morning Herald wants to hear from the Class of 2020 about how you are coping with COVID-19.
We know you are facing many challenges, but we also know you're a resourceful bunch.Please tell us about the ways you are overcoming hurdles, and how you are finding motivation and joy in this otherwise bleak year.
Whether it's a study club, teacher or a new routine that's getting you through – we'd love to hear from you.
Unwell residents in Brisbane's inner east have been urged to come forward for testing after a Japanese woman who visited the area tested positive for COVID-19.
The woman, who was granted a border exemption to visit her unwell father in Brisbane, quarantined in Sydney for two weeks prior to her arrival in Queensland.
"She travelled from Japan to Australia in the middle of July," Chief Health Officer Jeannette Young said. "She had two tests done [in quarantine] and both of those were negative."
The woman visited her father in the "Morningside/Bulimba area", suburbs in Brisbane's inner east, before flying back to Tokyo on Tuesday, via Sydney.
Health authorities are now working to trace the woman's movements through Brisbane.
"We're aware of six who we have tested and we should get their results late today," Dr Young said.
"We also have been able to speak to her to find out where else she has been. She identified she went to the Jam Pantry in Greenslopes on Sunday morning for breakfast."
Opening hours at fever clinics on the city's southside have been extended to accommodate extra testing.
"If anyone who lives in that area becomes unwell, with any symptoms, they should come forward and get tested," Dr Young said.
"We're not sure where she's acquired the infection but we believe that risk is very low."
Two young Adelaide women who flew into Perth without an exemption allegedly escaped hotel quarantine to party with a local rapper.
They will face Perth Magistrates Court on Thursday morning, accused of leaving the Novotel Hotel Perth around 1.30am on Tuesday and catching a taxi to the Coolbellup flat of an amateur musician called Siri Kidd.
"I don't know, it's so crazy, I didn't even know this was all happening, this is surprising me too," he told Nine News Perth.
"I've met them once before, that was it, I didn't even know they were coming because they told us they wouldn't be able, or be allowed, to come so we thought they wouldn't be coming you know … and then they just rocked up."
The women landed at Perth Airport on Monday August 17, despite the border being closed to interstate travellers since April.
WA Police said the duo claimed they wanted to holiday in Perth and visit friends, but authorities denied them entry and put them on a bus to stay in hotel quarantine until a return flight could be arranged.
It was allegedly during the bus ride the driver overheard the pair hatching a plan to escape and police were notified.
A few minutes ago, NSW Deputy Premier John Barilaro addressed the media in Albury where he has ended his tour of the state's border communities.
The state Nationals leader said he had met with a number of stakeholders in the Albury region, including schools and people employed at Albury-Wodonga's shared hospital and believed there was "an argument" that restrictions on the Victorian border should be relaxed.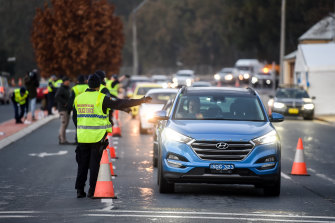 "Seven weeks ago we made tough decisions out of Sydney and tough decisions in protecting the millions of people of NSW when the cases in Victoria, one, couldn't be traced and, two, were escalating at a rate beyond what anyone had seen even in the first phase of the crisis in March and April," he said.
"We made tough decision and with that, unfortunately, it impacts on communities.
"Seven weeks on, some of the numbers across the border are getting better. The risk profile is reducing and, therefore, there is an argument for a reset today to move forward."
Mr Barilaro said he would be taking what he has learnt from his border tour – which began at the Queensland border earlier this week and included a trip to Queanbeyan – to Premier Gladys Berejiklian today.
"I can't make promises of what I can achieve but I am going back with the facts and data from someone that understands border communities," he said.
The Deputy Premier flagged a financial support package for border communities would be announced in the coming days.
Victoria Police have doled out 168 fines over the past 24 hours, including 24 people not wearing a face mask, 48 curfew breaches and 12 people at vehicle checkpoints.
It comes after yesterday it was revealed that only 42 people have been fined for not being home, despite the state government using the purportedly high number of rule-breakers to partly justify heftier infringements.
Premier Daniel Andrews announced a higher penalty in early August for isolation breaches after he said that 3000 doorknocks conducted by the Australian Defence Force (ADF) and health officials found more than 800 people were not home.
But since April, police have received the details of 30,000 Victorian residents who are either COVID-positive or close contacts who were required to isolate, with less than 50 have been fined for not being home when they should.
Some examples given by Victoria police of fines handed out in the past 24 hours include:
A male found driving in a car park during curfew in Knoxfield. "He stated he had driven from Mount Waverley to take his uncle to purchase cigarettes and refill a gas bottle," a policespokesman said.
A woman walking in Hobsons Bay during curfew who said she had just visited a friend's house and didn't think it was that serious.
Three males and a female in a car in Point Cook. The group of four live at different addresses and did not have a valid reason to be out, according to police.
A man at Glen Huntly Railway Station not be wearing a face covering. After initially refusing to provide his details, he provided his name and address and he was found to be more than 15 kilometres from his address without a valid reason.
Two parents with their children visiting Lysterfield Lake Park who told police they had travelled from Keysborough to go for a walk. "When speaking to police, it was clear they were deliberately breaching the directions because they didn't think the virus was that serious," the spokeswoman said.
Qantas boss Alan Joyce says Australia needs a clear set of national rules guiding when state borders are closed and reopened based on COVID-19 active case numbers.
"It's very clear that we don't have clear guidelines for when the borders will open, when they will close. So we have a situation where a large number of states and territories that have zero cases and they're not even open to each other," Mr Joyce said on Thursday morning.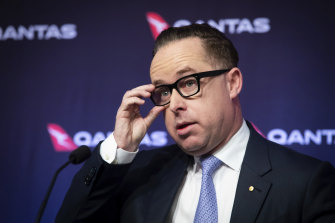 "Western Australia, South Australia, Northern Territory, Queensland, Tasmania – we've got closures there still with very low cases, no cases.
"They should be open now but we need to have a framework for what will allow them to open to give certainty to the tourism industry, to our company, to our employees."
Mr Joyce said rules should be set at a federal level by the national cabinet and be based on "the facts, the health advice and the levels of cases seen around the various states".
"It feels like there's no rule-based decisions, it's just there to inform maybe the politics," he said.
"Nobody has an issue with what has happened with Victoria – those borders needed to be closed; we're supportive of what's happened on the international borders. But we still don't understand why states with zero cases for a long time have borders closed with states with zero cases. That doesn't seem to make any medical sense or any advice that we've seen."
Qantas revealed on Thursday morning that the COVID-19 pandemic had pushed it to a $1.9 billion after-tax loss.
Mr Joyce said it was unlikely Qantas would resume any international flying before June next year, with the possible exception of to New Zealand. He said flights to the United States would probably not resume until the end of 2021 given the virus continues to run rampant there.
A Brisbane youth detention centre has gone into lock down after an Ipswich woman worked five shifts while infectious.
The woman, aged in her 70s, tested positive for the virus on Wednesday night.
"What you're going to hear today is a story of a woman who was sick and still went to work," Premier Annastacia Palaszczuk said.
"Now a whole lot of contact tracing has to happen.
"We will be speaking with her close contacts, with her family members to try and identify a connection of where it has come from."
Ms Palaszczuk said no visitors had been permitted into the Wacol detention centre since late July.
Chief Health Officer Jeannette Young said it was believed the woman had worked five shifts while infectious.
"She developed symptoms, we believe, on the 10th of August, although that has been clarified now." she said.
"At this stage, we're working with the centre to test all of their residents. They have approximately 130 youths in detention there and all of the staff.
"There are over 500 staff."
Victoria's inquiry into hotel quarantine has started up again this morning.
We will be bringing you the big takeaways from today's hearing – which will see nurses and returned travellers give their firsthand accounts of their experiences in the system – on this blog but you can catch up on everything as it happens on our separate blog dedicated to the inquiry.
Due to some technical difficulties, we won't be streaming the video live, but you can watch via the inquiry website, here.
Any Melburnian who has been fined for driving to a park within 5km of their homes for exercise will now have their fine reviewed, the Victoria Police Deputy Commissioner has revealed this morning.
It comes after the state's Chief Health Officer stepped in yesterday to overturn the COVID-19 restriction amid community backlash.
Deputy Commissioner Rick Nugent told Melbourne radio station 3AW that all police officers were sent advice last night informing them of the overturned rule, meaning from today no one will be fined for driving to their local park inside stage four lockdown areas.
"We're going back and reviewing those fines," he said.
Mr Nugent said he "wouldn't expect" there would be a high number of fines, but could not give a specific number.
The policy backflip came about after police took to social media earlier this week to issue a reminder that they had been directed to issue $1652 fines for anyone driving to an area within 5km of their home for exercise.
Chief Health Officer Professor Brett Sutton was asked about the restriction in a press conference yesterday where he indicated he would get the rule changed.
"I don't want anyone to feel unsafe getting to a place of exercise," he said.