NSW's snow level could drop to 600 metres this weekend with the state's ski resorts taking on up to 15 centimetres of snowfall on Friday night.
Heavy snow and strong winds may lead to blizzards and white-out conditions, while avalanches are also a risk.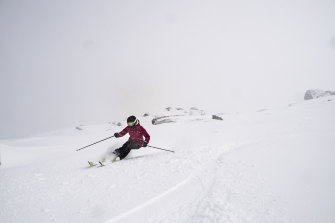 As much as a metre of snow is expected to fall on alpine areas of the state by the end of Sunday.
"We could see snow in places like Orange and Oberon where we don't normally do at this time of year," bureau forecaster Helen Kirkup said, noting the snow level could drop to 600 metres on Saturday.
Unlike rainfall, snow is measured by how far down it is expected to fall – 600 metres being much closer to sea level than average for this time of the year.
Loading
Bureau forecaster Jiwon Park said the typical snow level ranges from 1200 to 1700 metres.
"This means that places in the Central Tablelands and Northern Ranges shouldn't be expecting just a dusting, but rather 'proper snow'," Mr Park said.
Thredbo and Perisher both recorded 15 centimetres of snow on their gauges on Friday morning, with snow continuing to fall. There have been 49 centimetres at Thredbo and 46 centimetres at Perisher over the past seven days.
Winds of 40 to 50km/h are expected for parts of Sydney, with temperatures hovering in the mid-teens over Saturday and Sunday, and single-digit lows.
It will be a mostly sunny but blustery weekend with a maximum of 16 degrees on Saturday and 17 degrees on Sunday.
The bureau issued a warning to sheep graziers on Friday, saying the cold temperatures, showers and westerly winds expected during Friday and Saturday could lead to lamb and sheep losses if the animals are exposed.
with Peter Hannam
Mary Ward is a reporter at The Sydney Morning Herald.
Matt Bungard is a journalist at The Sydney Morning Herald.
Most Viewed in Environment
Loading