The hotel quarantine inquiry has resumed after some earlier technical issues. You can watch today's hearing live, below:
Turning to a very different issue for a moment: Airbnb is banning house parties worldwide as it tries to clean up its reputation and comply with COVID-19-related limits on gatherings.
The San Francisco-based, home-sharing company will limit occupancy in its rental homes to 16 people. It may offer exceptions for boutique hotels or other event venues.
Airbnb said it may pursue legal action against guests and hosts who violate the ban. Last week, for the first time, Airbnb took legal action against a guest who held an unauthorised party in Sacramento County, California.
AP
Ron Erasmus has told Victoria's hotel inquiry his mental health struggles were exacerbated during his stay in quarantine.
Mr Erasmus arrived in Melbourne on May 1 from South Africa, where he had just visited his father who unexpectedly died.
At the Stamford Plaza hotel in the CBD, Mr Erasmus said he had to relay information about his circumstances to the Department of Health and Human Services at least twice a day because it appeared the conversations were not being recorded properly.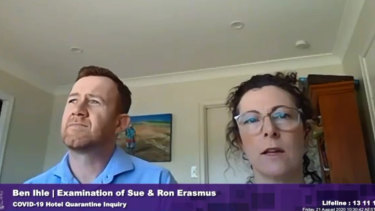 His wife, Sue, said Mr Erasmus became "very agitated".
"I've never seen him like that. He was extremely out of character … not sleeping or sleeping too long," she said.
Ms Erasmus told the DHHS that her husband needed mental health help, which Mr Erasmus accepted.
However, he encountered more problems arranging it with the DHHS. Mr Erasmus was told to call a DHHS phone number and ask for one mental health counsellor, whom DHHS then said did not exist.
"Call it chaos, call it a lack of organisation, you know it stopped me from doing it [counselling]," said Mr Erasmus, who was visibly fighting back tears as he told the story to the inquiry.
Ms Erasmus said she asked the DHHS to give the couple more than their allotted 10 minutes of fresh air per week. That did not transpire, she said.
Warning: This post contains material that may distress some readers.
The Department of Health and Human Services has abandoned its move to suppress information about a suspected suicide at a quarantine hotel.
Nurse Michael Tait, who worked in the quarantine program at the Crown Metropol hotel in the scheme's first few weeks, told the inquiry on Thursday a guest had taken their own life at the Pan Pacific hotel and their body was not discovered for a "couple of days".
Mr Tait was later cross-examined by DHHS in an exchange that was redacted from the public hearing before it was published in transcripts later in the afternoon.
Mr Tait clarified that he had heard a rumour about the guest's body not being discovered for days.
"That is the rumour that I heard. I don't know if that's true or not," he said.
DHHS moved to suppress any publication of information relating to "misinformation" about the suspected suicide.
The application was opposed by The Age, Nine News, Seven News, The Australian and The Herald Sun.
DHHS dropped its suppression application on Friday morning.
Claire Harris, QC, who is acting for the department, said the reporting largely reflected what had occurred during cross-examination.
The death, which occurred mid-April, is being investigated by the coroner.
Last month, State Coroner Judge John Cain told the ABC he believed the media should be more transparent in its reporting of suicides.
If you or anyone you know needs support call Lifeline on 131 114, or Beyond Blue's coronavirus mental wellbeing support service on 1800 512 348.
And just like that, it appears the live stream of the hotel quarantine inquiry has resumed properly. Hit the refresh button in order to view the live stream in the post at the top of the blog.
Technical issues are plaguing the hotel quarantine inquiry this morning. The live stream of the hearing has stopped working. It's an issue at the inquiry's end, not ours.
We will let you know when the live stream is back online properly.
Queensland has not detected any new cases of COVID-19 following a scare at a Brisbane youth detention centre.
Fifty-six tests at the Wacol detention centre have come back negative with hundreds more yet to be returned.
A supervisor at the centre, a 77-year-old Ipswich woman, tested positive for COVID-19 on Wednesday night, triggering a massive testing response.
Health authorities are still racing to discover how she contracted the virus.
More than 9000 tests were conducted in the past 24 hours and none returned a positive result.
Sixteen cases remain active across the state, four of those people are being treated in hospital.
AFL chief executive Gillon McLachlan has confirmed reports the venue for the AFL grand final will be announced next week.
The Age reported last week Queensland had established an expert panel to drive its bid for the game, the first time it will ever be held outside of Victoria. Western Australia also remains keen for the game.
McLachlan told radio station 3AW that discussions were ongoing.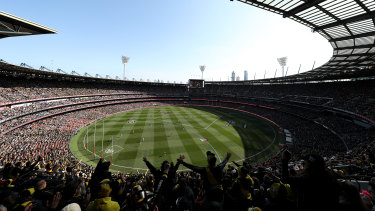 "It [the decision] will be next week," he said. "We have been pretty consistent [saying we will be] waiting until the end of August.
"Wherever we land will be in concert with them [the Victorian government].
"It is increasingly looking challenging in Victoria … and we are having conversations with others."
He said it was likely the Brownlow Medal would follow the grand final.
"Not certain but likely … we haven't made a decision but probably likely they go hand in glove [Brownlow Medal to happen where the grand final is]."
Victoria's hotel quarantine inquiry has returned for its final hearing this week.
Sue and Ron Erasmus, two returned travellers who stayed in a hotel, are giving evidence. Ms Erasmus is also a medical professional.
They'll be followed by another returned traveller, Liliana Ratcliff.
Then around midday, we'll hear from Luke Ashford, an authorised officer with the Department of Health and Human Services who felt so unsafe working in the hotels that he quite his role.
After lunch, at 2pm, a security guard will give evidence – the first time we've heard from a security guard in the inquiry.
One radio host described yesterday's hotel quarantine inquiry as a horror show, as nurses and returned travellers painted a shocking picture of how the program operated.
As today's hearing begins, here's a recap of some of yesterday's disturbing evidence:
Health Department staff viewed detainees with serious mental and physical health issues as problematic, refused requests for medication from people in extreme pain and told someone to stop threatening suicide just to get a cigarette, according to a whistleblower known only as Nurse Jen.
Another nurse, Michael Tait, told the inquiry there was no testing taking place and personal protective equipment was hard to come by. Infected guests were allowed to leave three days after testing positive if they were not displaying symptoms, he said. "It seemed like the department did not care if COVID-19 patients just left the hotel and walked into the street".
Prominent human rights lawyer Hugh de Kretser, who was quarantined at the Rydges on Swanston, said his family's room was filthy and they weren't given a 15-minute fresh air break until day 12 of 14.
These are photos Mr de Kretser took of his family's hotel room, showing the filthy conditions. It is worth noting Mr de Krester, his wife and children arrived at Rydges one month after a COVID-19 outbreak at the hotel had emerged: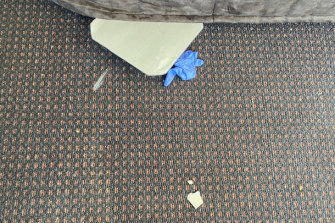 The first security guard is due to give evidence at the inquiry today. We will also hear from a DHHS officer who worked in hotel quarantine and quit in disgust.
Queensland Deputy Premier and Health Minister Steven Miles is due to hold a press conference at 10am, which you can watch live below: