Federal Aged Care Minister Richard Colbeck has acknowledged weaknesses in the government's handling of COVID-19 in the sector after the virus killed hundreds of elderly residents in Victoria's second wave.
"In some circumstances, it should not have come to this," Senator Colbeck told the COVID-19 Committee hearing this morning.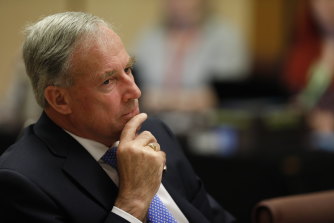 "We haven't got everything perfectly right … We continue to learn from the experiences of previous events."
The minister, under questioning from Labor Senator Katy Gallagher, conceded the federal government was responsible for infection control in aged care.
"We're responsible for the setting of the standards and, through the Aged Care Quality and Safety Commission, the application of the standards," he said.
Asked if the government accepted "any responsibility for the unnecessary and avoidable deaths of hundreds of aged care residents during this pandemic", the minister said: "All of us have to accept responsibility for what's occurred … At the end of the day, we the government carry responsibility for the policy."
But he rejected the suggestion the government had "allowed" the virus to ravage aged care homes, where some residents were left hungry and malnourished, in soiled clothing, after staff were sent home during outbreaks, describing such scenes as "a tragedy".
"In some circumstances it's come about because of, in the example of St Basil's, events we clearly had not anticipated," Senator Colbeck said.
"The government was not absent. The government has been there every single step of the way, providing every resource that we could muster."
The minister said he had spoken with families affected by Victoria's outbreak and "we have all been mortified by the circumstances we've found in those facilities".
"We thank the staff who have been available and express our condolences to all those who have lost family and loved ones," he said.
"But the situation that's occurred in Victoria is that the resources of the entire health sector have been stretched, the resources of the aged care sector have been stretched, where you have close to 2000 residential aged care workers who are furloughed because of being either COVID-positive or close contacts … That's why we have continued to bring additional resources to bear."
Senator Colbeck said the situation in Victoria's aged care sector, where AUSMAT and Australian Defence Force teams were now coordinating surge workforce deployments, remained "extremely fragile".
Airbnb is banning house parties worldwide as it tries to clean up its reputation and comply with COVID-19-related limits on gatherings.
The San Francisco-based, home-sharing company will limit occupancy in its rental homes to 16 people. It may offer exceptions for boutique hotels or other event venues, AP reports.
Airbnb said it may pursue legal action against guests and hosts who violate the ban. Last week, for the first time, Airbnb took legal action against a guest who held an unauthorised party in Sacramento County, California.
Airbnb has always prohibited unauthorised parties, and the company said nearly 75 per cent of its listings explicitly ban parties.
AFL chief executive Gillon McLachlan has confirmed reports the venue for the AFL grand final will be announced next week.
The Age reported last week Queensland had established an expert panel to drive its bid for the game, the first time it will ever be held outside of Victoria. Western Australia also remains keen for the game.
McLachlan told 3AW that discussions were ongoing.
"It [the decision] will be next week," he said. "We have been pretty consistent [saying we will be] waiting until the end of August.
"Wherever we land will be in concert with them [the Victorian government].
"It is increasingly looking challenging in Victoria … and we are having conversations with others."
He said it was likely the Brownlow Medal would follow the grand final.
"Not certain but likely … we haven't made a decision but probably likely they go hand in glove [Brownlow Medal to happen where the grand final is]."
Queensland has not detected any new cases of COVID-19 on Friday following a scare at a Brisbane youth detention centre.
Fifty-six tests at the Wacol detention centre have come back negative with hundreds more yet to be returned.
A supervisor at the centre, a 77-year-old Ipswich woman, tested positive for COVID-19 on Wednesday night, triggering a massive testing response.
Health authorities are still working to discover how she contracted the virus. More than 9000 tests were conducted in the past 24-hour reporting period and none returned a positive result.
Sixteen cases remain active across the state, four of those people are being treated in hospital.
Victoria's inquiry into hotel quarantine has started up again this morning. We will be streaming the inquiry live and posting rolling updates over here, but providing you with summaries of what has been said on this blog.
The inquiry will start with Sue and Ron Erasmus, two returned travellers who stayed in a hotel. Ms Erasmus is also a medical professional. They'll be followed by another returned traveller, Liliana Ratcliff.
Then about midday we'll hear from Luke Ashford, an authorised officer with the Victorian Department of Health and Human Services who felt so unsafe working in the hotels that he quit his role.
After lunch, at 2pm, a security guard will give evidence – the first time we've heard from a security guard in the inquiry.
Financial conglomerate Suncorp Group has slashed its final dividend after profits from its domestic insurance and banking businesses fell by a third amid a range of impacts from the coronavirus pandemic.
As earnings are pressured across the financial sector, Suncorp on Friday said cash earnings, a measure that excludes volatile metrics, fell by a third to $749 million. Net profit rose more than four-fold to $913 million, though this included gains from an asset sale.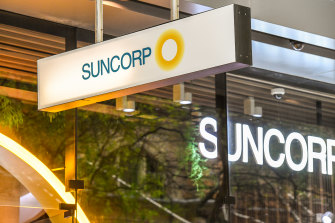 The board declared a final dividend of 10 cents a share, which is sharply down on last year's payment of 44 cents, but it comes at a time when some rivals have scrapped dividends altogether.
"It has been a challenging 12 months for Suncorp and for the customers and communities we support: first a season of extreme weather conditions, and then the global COVID-19 pandemic which will result in long lasting economic disruption and fundamentally change the way we live," said chief executive Steve Johnston.
"The strength of our balance sheet has enabled the board to determine a fully franked final ordinary dividend of 10 cents per share. It is pleasing we are able to deliver on our commitment to shareholders by paying a modest final dividend."
The company warned the operating environment remained highly uncertain, and it was assuming a sharp deterioration in the economy before conditions would start to improve in 2021.
With dividends in the spotlight, the board said it remained committed to paying out 60 per cent to 80 per cent of cash earnings, but payouts would be affected by the economic outlook and the results of stress testing.
Queensland Deputy Premier Steven Miles will give a coronavirus update at 10am.
Federal Agriculture Minister David Littleproud has spoken in favour of reduced restrictions, particularly border restrictions, on regional areas, calling for premiers to seek medical advice specifically on their regional areas and take a "commonsense approach".
"[Regional areas] don't have the cases they do in metro and that is what we are saying to premiers: talk to your chief medical officers, you are making decisions predicated on clusters that are severe in capital cities, they are not in regional areas," he told reporters at Toowoomba this morning.
"We can create bubbles, we can create avenues of commerce for regional and rural Australians."
The Agriculture Minister said "regional and rural Australia has evolved past these lines on a map" and, although he acknowledged there would be challenges, he believed the interconnectedness of most regional communities on either side of state lines meant it was worth putting in the effort to find better solutions.
Although the Prime Minister has been having discussions with individual premiers about regional borders, Mr Littleproud did not think "anything would be resolved firmly" on the matter of borders at today's national cabinet meeting.
As national cabinet gets under way this morning, with a national aged care response on the agenda, the COVID-19 Senate committee will also be turning its attention to aged care outbreaks in Victoria.
There have been 1656 coronavirus cases in aged care residents nationally since the start of the pandemic, of which 1593 have been in Victoria. All 1322 active cases are located in Victoria, accounting for more than one in four of the state's active cases.
Aged Care Minister Richard Colbeck, the Department of Health and the Aged Care Quality and Safety Commission will all be questioned at this morning's session.
Australia's peak hospital body has warned that more than one in five Victorian healthcare workers who have been infected with coronavirus caught it at work.
The warning comes as a major coronavirus outbreak at Frankston Hospital, infecting 51 healthcare workers, has reignited fears about the dangers of the virus spreading among medical staff working between hospitals.
The Age can also confirm there was another coronavirus outbreak in Frankston on July 26 at a Peninsula Health rehabilitation centre, which treats vulnerable and immunocompromised patients.
Eighteen patients and 14 staff were infected with Victorian health authorities now investigating whether the two Peninsula Health clusters are linked.