The official live stream of the Democratic National Convention on YouTube.
After rolling out some of the Democrats' biggest names over the past few days, today's line up will feature Biden's family and more up-and-comers from across the party. Here's a list of folks you can expect to see over the next two hours:
American businessman Andrew Yang
Seinfeld/Veep actress Julia Louis-Dreyfus
Country band The Chicks
US Senator for Delaware Chris Coons
Atlanta Mayor Keisha Lance Bottoms
Soul singer John Legend
American rapper Common
New Mexico House Representative Deb Haaland
California Secretary of State Alex Padilla
Michigan Secretary of State Jocelyn Benson
US Senator for New Jersey Cory Booker
Former US Surgeon General Dr Vivek Murthy
Wisconsin Senator Tammy Baldwin
Illinois Senator Tammy Duckworth
Mayor of South Bend Pete Buttigieg
Billionaire and former New York City Mayor Mike Bloomberg
Joe Biden's children Ashley and Hunter
The official live stream of the Democratic National Convention on YouTube.
For those of who missed the DNC yesterday you can catch up with our blog here and check out correspondent Matthew Knott's analysis here.
Day Three certainly had its fair share of fireworks.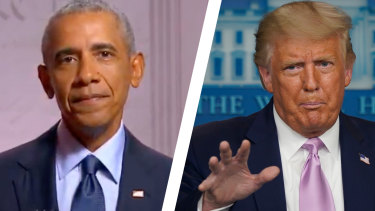 Barack Obama, in a departure from his longstanding position to not unload against a sitting president, did exactly that.
Hillary Clinton, still burnt by the events of 2016, urged voters not to make this another "woulda, coulda, shoulda election."
And Kamala Harris officially became the first black and south Asian woman to accept a major party's vice presidential nomination.
"That I am here tonight is a testament to the dedication of generations before me. Women and men who believed so fiercely in the promise of equality, liberty, and justice for all," she said.
Hi everyone, and welcome to Joe Biden's big day.
We've finally reached the last stretch of the Democratic National Convention, which I'll be live blogging from the US over the next few hours.
For Biden, this is a HUGE deal. After two failed attempts to be the Democratic presidential candidate, the 77-year-old will finally accept the party's nomination for the gig he's wanted for decades.
Expect to hear less Trump, Trump, Trump, and more about Biden's personal vision: who he is, what he stands for, and why he reckons he's best placed to deal with America's triple crises – coronavirus; racial injustice; and a pandemic-fuelled recession.
We'll also hear from Biden's adult children Ashley and Hunter, some of his former rivals from the Democratic primaries – including Pete Buttigieg and Mike Bloomberg – and his newly minted VP pick, Kamala Harris.
Fun times ahead…
Those of you tuning in to the Convention yesterday would have seen the furious reaction from Trump on Twitter.
This one emerged, angry caps-lock and all, as Harris was praising Biden in her speech:
Today, the President flew to blue collar Pennsylvania – one of a handful of battleground states that helped deliver Trump victory in 2016.
Biden was born there and now lives in Delaware, giving Trump plenty of ammunition to accuse him of abandoning the state. His message to Pennsylvania voters?
Joe Biden is "your worst nightmare."
"Joe Biden is a puppet of the radical left movement that seeks to destroy the American way of life," Trump told the small but adoring crowd.
"They don't want energy, they don't want guns, and they don't want religion."