At the start of August Premier Daniel Andrews cited 760 mystery cases as a catalyst for implementing stage four restrictions.
Mystery cases are worrying because they are cases in which the source of the infection can't be linked to known outbreaks or positive cases and therefore close contacts can't be isolated to curb the spread.
On Friday, Mr Andrews said he didn't want to pre-empt future case numbers, but was relieved at Friday's total.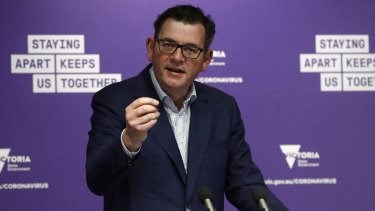 "Whilst tomorrow's numbers will be for tomorrow, we are all pleased to see a 'one' in front of these additional case numbers, and to a certain extent, it is perhaps at that level a little quicker than I thought it might be," Mr Andrews said.
Chief Health Officer Professor Brett Sutton said that the reduction in mystery cases was more important than a wholesale drop in numbers.
"It's one thing to get to 10 cases but, if they're all mystery cases, we don't know where they've come from and we don't know exactly where to focus our attention and energy in addressing them, that's a trickier problem than an outbreak of 10 cases where they're all known, where the chains of transmission are well-established."