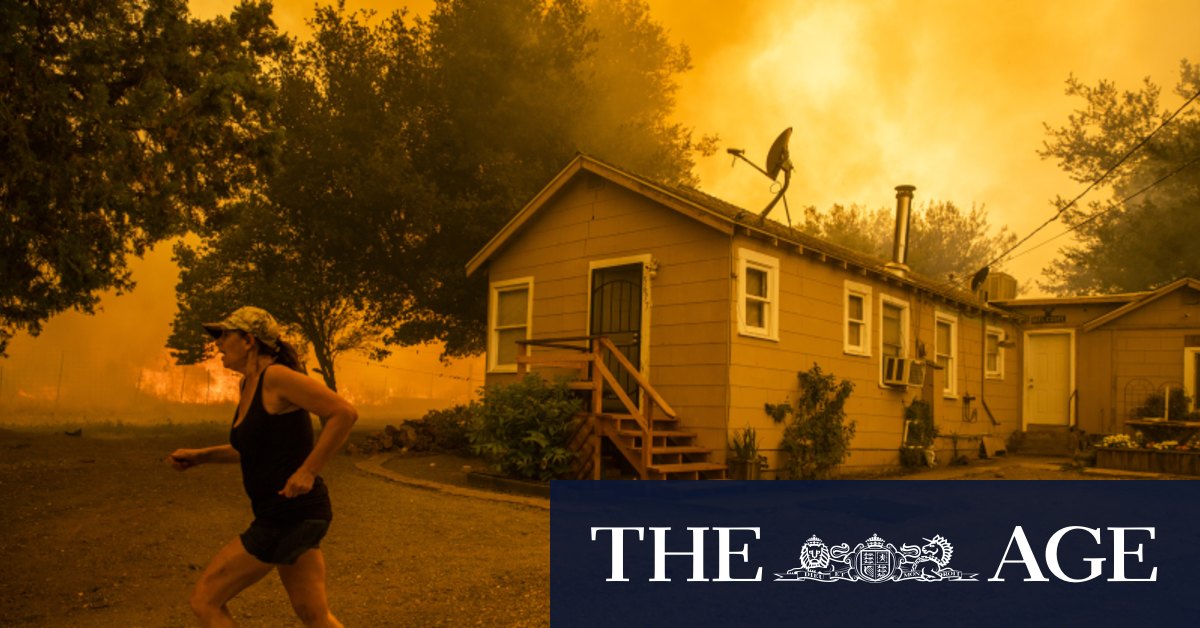 Nick Nauslar, a meteorologist with the National Interagency Fire Centre in Boise, Idaho, which coordinates firefighting efforts nationwide, tweeted early Sunday morning that if numerous storms form, they could ignite "hundreds of new fires". With fire crews already stretched thin and Governor Gavin Newsom, a Democrat, appealing for help from other states as well as Canada and Australia, this could overwhelm the more than 13,000 firefighters currently on duty.
In a typical entire wildfire season, California sees a little more than 121,405 hectares burned.
The LNU Complex Fire had burned 138,096ha, mainly in Sonoma, Napa and Lake counties, destroying 845 structures and killing four people. The fire was 17 per cent contained, and it ranks as the second-largest blaze in state history.
As of Sunday morning, the SCU Complex Fire was 137,580ha, having destroyed five structures and threatening 20,000 others. It was 10 per cent contained. The fire is the third-largest in California history and is burning in Santa Clara, Alameda, Contra Costa, San Joaquin and Stanislaus counties.
Nine of the 10 largest California wildfires have occurred since 2003, but many of them reached their size more gradually than the current blazes, which spread with a speed and ferocity that even veteran firefighters had not witnessed.
Loading
The burning of about 485,600ha in California in just a month, according to analysis by the Los Angeles Times, is an astonishing toll so early in fire season.
In all of 2019, more than 104,800ha in California burned, according to the Idaho-based National Interagency Fire Centre, although that followed a relatively wet winter.
Firefighting resources have been pouring into the region in recent days. But firefighters say they are lacking resources.
In some places, officials said they were being turned down for state help and left to beg equipment and manpower from volunteers and local agencies.
Loading
"Many of these firefighters have been on the lines for 72 hours, and everybody is running on fumes," said Assemblyman Jim Wood, whose district includes wine country areas currently under siege. "Our first responders are working to the ragged edge of everything they have."
With blazes overwhelming the crews available, fire experts said state officials are now forced to prioritise which fires will get resources and change how equipment and crews will be used.
Though officials often try to build defensible lines to contain blazes, fire experts said the focus is now is on saving lives and structures. That means the current blazes could burn for weeks.
Already, nearly 1,000 homes and commercial buildings have been destroyed by fire since August 15, which marked the start of what officials are calling a "lightning siege" of about 12,000 strikes that started an estimated 585 fires in California.
Los Angeles Times
Get our Morning & Evening Edition newsletters