Sport has become well-versed at operating in a biosecurity bubble but boxing can throw up a few different challenges, including the propensity for dressing rooms to be overflowing with well-wishers as the entourage expands throughout the night.
That won't be happening on Wednesday, with fighters and their managers under strict riding instructions from the moment they leave the hotel to the moment they return later that night.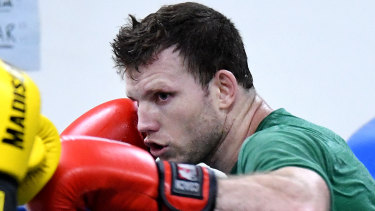 Fighters will travel to the arena in corner designations, sitting socially distanced on buses and then shown to the red or blue dressing rooms. There will be the obligatory temperature checks upon entrance and anyone who fails three times will be denied entrance to the clean zones set up at the stadium.
That zone will encompass all of the change-rooms and essential stadium facilities, as well as the routes the fighters will take on the walk to the ring, the ring itself and the immediate ringside area that includes judges, officials and some media.
Fighters will get instructions from referees beforehand but have already been warned they not to 'touch or make physical contact with anyone outside of the clean zone, including on your walk out to the ring and on your return to the changing rooms'.
Loading
Only people that are part of the corner team for each fighter or those on a registered COVID list will be allowed in the clean zone and near the athletes. And fighters on the undercard have been told they must stay at the stadium and in the clean zone until the completion of the Horn-Tszyu main event.
Fighters will be then be transported back to their accommodation hubs in the same way they arrived, with organisers urging participants to make sure every protocol is followed until the completion of the entire card.
Ticket sales have been strong for the fight, with limited stocks left just days out from the biggest domestic fight of the year in Australia. It was originally scheduled for April before COVID-19 forced a postponement.
It will also be the first pay-per-view fight streamed on Fox's Kayo service, meaning subscribers who have ditched their terrestrial box can also watch the bout.