The National Hurricane Centre has dropped all tropical storm and storm surge warnings for coastal Louisiana.
On satellite imagery, the centre of Marco is a swirl of low-level clouds, while its strongest winds and heaviest rains are displaced well to the northeast, over the Florida Panhandle.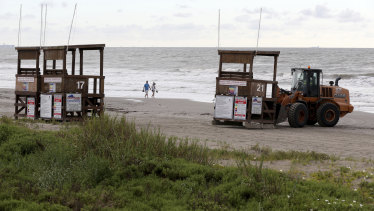 Tropical Storm Laura is holding its own despite being so close to land, moving just 15 miles (24 km) south of Cayo Largo, Cuba, as of 2 pm Washington time.
The storm is moving west-northwest at a rapid clip of 20 miles per hour (32 k/hr), and once it clears the western tip of Cuba, the only impediments to its intensification will be found in the atmosphere.
For example, wind shear, or winds blowing with different speeds or direction with height, can inhibit a tropical storm or hurricane from strengthening or even tear it apart.
Officially, the Hurricane Centre is forecasting Laura to make landfall somewhere along the Texas or Louisiana coastline on Wednesday night as a Category 2 hurricane.
However, forecasters there are cautioning it could grow more intense, and computer models are showing how that could play out. Hurricane and storm surge watches are expected to be issued for the Gulf Coast by Monday evening in anticipation of the storm's arrival.
Several jurisdictions have begun to issue requests for voluntary and mandatory evacuations in Louisiana and Texas as the threat from Tropical Storm Laura grows.
The storm, predicted to be a Category 2 or possibly stronger hurricane at landfall late on Wednesday into Thursday, poses "an increasing risk of dangerous storm surge, wind, and rainfall impacts" according to the National Hurricane Centre.