Never was this more evident on the night than when Lachie Hosie – racked with indecision – tried to spot up an outnumbered Robbie Tarrant at centre half-back, opening the door for Trey Ruscoe to kick his second goal of the game.
That was part of a run of six Collingwood goals to North's solitary major either side of three-quarter-time which ensured the Pies would end the round in seventh position on the ladder and enter a tough home stretch with some winning form.
Scott Pendlebury was tremendous in the second half. The Pies skipper benefitted from a contentious 50-metre penalty to kick his first goal of the season, while Steele Sidebottom provided a farewell gift with a neat finish in the final term. Whether the Collingwood vice-captain plays again this year may hinge on how far the Pies can venture into the finals.
North could be buoyed by the performance of injury-riddled defender Ed Vickers-Willis, who was amongst their best.
LET'S GET PHYSICAL
Many in the football world might have forgotten about Levi Greenwood, who was playing his first AFL match in almost a year after tearing his ACL in the 2019 finals series.
But playing against his former side, Greenwood made his presence felt almost immediately, tackling North youngster Jack Mahony to the ground in the first term. Mahony was worse for wear and had to be assessed on the boundary but returned shortly after.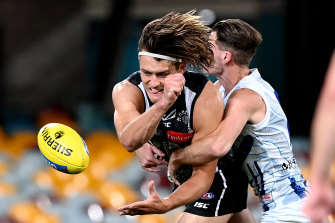 While the first half was far from pretty, Greenwood's bruising effort was one of several heavy collisions. Chris Mayne had to be patched up after wearing a hit at half-back but his courage paved the way for Collingwood to rebound, leading to a Josh Thomas goal.
Josh Daicos then combined beauty with bravery, snapping an important major as he braced for a bump from North enforcer Jed Anderson. Daicos was slow to get to his feet after the knock but his classy finish was a rose in what had been a thorny encounter to that point.
TALL TALE
It's been a season of firsts, and you can add another one to the list. Collingwood may have appeared a touch top-heavy going into the game, having included Mason Cox alongside an array of other talls. And Twitter stats guru "Swamp" confirmed that this was a unique occasion.
With Cox, Brodie Grundy, Jordan Roughead, Darcy Moore and Darcy Cameron, the Pies became the first team in VFL/AFL history to enter a match with five players at least two metres tall.
Cameron landed heavily following a ruck contest in the third term and looked to be in trouble but returned to play out the game. Cox, whose career hangs in the balance, barely touched the ball but at least took his chance when it came, slotting a set shot in the second term.
COLLINGWOOD 1.2 4.3 8.3 10.5 (65)
NORTH MELBOURNE 2.1 3.4 5.5 5.5 (35)
GOALS
Collingwood: Ruscoe 2, Sidebottom, Daicos, Hoskin-Elliott, Appleby, Cox, Adams, Pendlebury, Thomas.
North Melbourne: Simpkin, Scott, Hosie, Xerri, Dumont.
BEST
Collingwood: Moore, Maynard, Pendlebury, Adams, Sidebottom, Mayne, Madgen, Daicos.
North Melbourne: McDonald, Anderson, Higgins, Vickers-Willis, Tarrant.
INJURIES
North Melbourne: Mahony (shoulder).
UMPIRES
Hosking, Howorth, Chamberlain.
Daniel is an Age sports reporter