All 127 youth detainees have now returned negative results although some may have had the virus earlier and since recovered.
Early on in the pandemic, Queensland clinicians were using one type of test to detect positive cases, known as a PCR. This test is done by swabbing a person's throat or nose to examine the genetic code of the virus.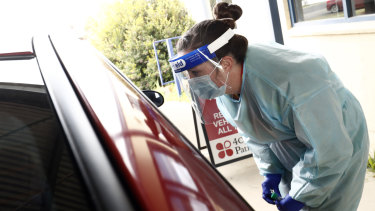 However a blood test called serology testing has been used to look for antibodies generated to fight the virus, allowing authorities to check if a person has recovered from infection without knowing they had it.
Chief Health Officer Jeannette Young said serology tests had been conducted on children in the youth detention centre and several tests indicated some youth may have had the disease and since recovered.
"The problem with serology is that it is not definitive, it is not like the PCR test," she said.
Loading
"Serology can react to other coronaviruses so we just need to wait and see the subsequent tests to know what that means.
"There are four other coronaviruses circulating in our community, most of them just lead to a very minor cold.
"It is too early to be definitive about any of those tests."
Dr Young said police had tracked down the families of 92 children who had been released from the centre in the past month.
Police have sighted 78 of those young people and 48 had been tested for the virus.
"We are well on track to track down all of them," Dr Young said.
"I'm really being very cautious here."
Meanwhile, staff and visitors to all hospitals across Brisbane and Ipswich will be required to wear face masks although that would not be enforced across the broader community.
"I'm not going to mandate it, because I don't believe we have broad-spread community transmission, but certainly we are in a risky period at this time," Dr Young said.
"If you get yourself into a situation where you cannot socially distance, it's time to consider using a mask."
Lydia Lynch is Queensland political reporter for the Brisbane Times
Matt Dennien is a reporter with Brisbane Times.